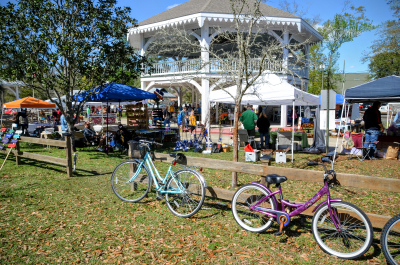 The historic little town is a great place to breathe deep and go with the flow.  Eclectic, artsy, and full of positive energy, Abita Springs is home to the  Abita Mystery House, a roadside attraction-like maze of odd collections, Southern humor, and memorabilia. Check the schedule for the Abita Springs Opry fall and spring series of Louisiana roots music including old-time Country, Bluegrass, traditional Southern Gospel music, Cajun, and Zydeco. Show up for the tours and tastings at Abita Brewing Company, and learn more about how its popular line of craft beers, including TurboDog and Andygator, is made. The weekly Abita Springs Art & Farmers Market boasts local crafts, homemade treats, and live music every Sunday. 
Abita Springs is a great access point for the Tammany Trace bike trail, a Rails-to-Trails paved path cutting through the heart of town. Originally a corridor for the Illinois Central Railroad, the scenic trail starts in Covington, comes through Abita Springs, on to Mandeville and Lacombe, and ends in Slidell. Visitors come from around the South for the Louisiana Bicycle Festival, held adjacent to the Trace, and featuring art bikes, vintage bikes, a cruise through town, and a bicycle swap meet.
Other popular events in Abita Springs are the Whole-town Garage Sale, the Busker Festival, and the raucous Krewe of Push Mow Mardi Gras parade with thought-provoking themes like "What's That Smell?"