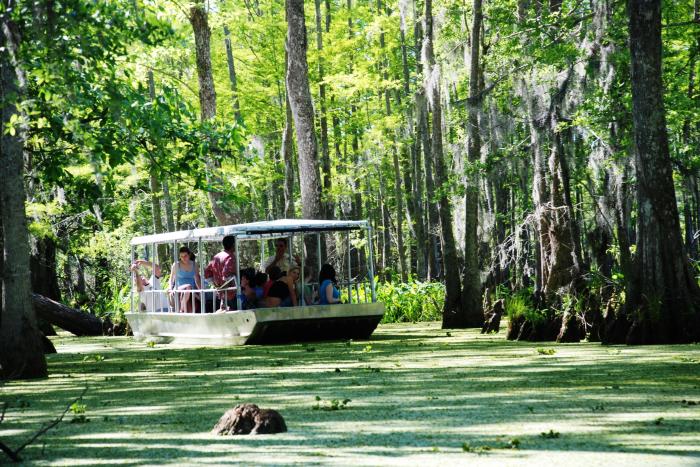 What you can expect to find in the Honey Island Swamp, on the northeast edge of St. Tammany Parish, is pristine beauty, lush nature in harmony, and abundant wildlife. There are gators, to be sure. You'll see them sunning themselves on logs or watching warily from the banks (you make them nervous); if they swim out to the boat it will be to score a few marshmallows thrown by the tour guide to lure them closer.
You probably won't be seeing any snakes, though they're out there. And despite reported sightings that date back centuries, odds are you won't be catching a glimpse of the Honey Island swamp monster, either.
You will see turtles, maybe an eagle overhead, and snowy white egrets patiently stalking a bullfrog dinner. You might see a nutria, prehistoric-looking pileated woodpeckers, or great blue herons, depending on what time of year you visit. You'll see an absolutely lovely patch of planet Earth, one that's been largely protected from …. us.
The Honey Island Swamp encompasses almost 70,000 acres, more than half of which is preserved for posterity as part of the Pearl River Wildlife Management Area. The PRWMA is swampy in the south, more hardwood bottomland to the north, home to black bears, feral pigs, cougars, nutria and an abundant year-round and migratory bird population.
Several tour companies take visitors into the Honey Island Swamp (and yes, bring them out, too). Reservations aren't mandatory but much appreciated and may avoid disappointment on your part. Most tours run around two hours in length. What you learn depends on when you visit, on your own powers of observation and on the perspective and personalities of your tour guide, each of whom seem to have a slightly different spin on the swamp.
Tour companies operating out of the Slidell/Pearl River area and touring Honey Island Swamp include Dr. Wagner's Honey Island Swamp Tours; Pearl River Eco-Tours; Cajun Encounters and New Orleans Kayak Swamp Tours.