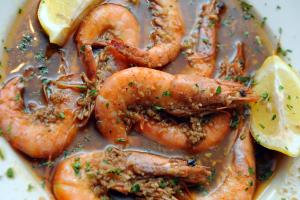 Barbecued shrimp:
Forget shrimp on the barbie or any images you might have of grilled shrimp with barbecue sauce. Here, barbecued shrimp means shrimp left in the shell and almost submerged in a garlicky, peppery butter sauce. It's messy. It's fattening. It's okay: Live a little.
Poboy:
A long sandwich on crusty French bread, the poboy really isn't the same as a submarine or a hoagie, but it can be ordered with a variety of fillings. Among the favorites are fried oysters, fried shrimp and roast beef, featuring long-simmered beef, sliced and slathered in gravy. Order it "dressed," which means with lettuce, tomato, and pickle.
Muffuletta:
Picture this: several layers of ham, salami and Provolone cheese topped with chopped olive salad served on a large, round, crusty Italian bread. Pronounced moof-a-lotta regardless of the spelling, this sandwich is a delicious handful and usually serves two or more people. 
Though gumbo has popped up on menus across the U.S., you're not likely to get the real thing outside of South Louisiana unless it's cooked by a transplanted native. A dark, flavorful soup, real gumbo takes a long time to cook and requires a little voodoo to do properly; most gumbos are variations on two themes -- seafood and chicken and sausage. Served with rice, it can be light brown or dark as swamp water. 
Paneed:
Meaning coated in bread crumbs or dredged in flour and pan-fried in butter, as in paneed veal, chicken, frogs' legs or oysters. 
Turtle soup:
A New Orleans classic, turtle soup these days often is made with chicken (so ask your server if it's the real thing). The dark, flavorful soup is typically enhanced by a dash of sherry added at the table. 
Cochon de lait:
Suckling pig is a favorite at Cajun family celebrations. Moist and flavorful, it's tender and, at its best, redolent of garlic. The cochon de lait poboy is a favorite at the New Orleans Jazz Fest and rarely served in restaurants (but occasionally you get lucky).