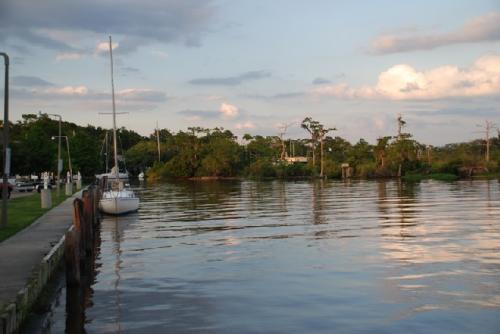 In Fontainebleau State Park visitors can camp or rent a cabin, play on the sandy beach fronting Lake Pontchartrain, check out the ruins of a 1830s sugar mill, and fish on the pier that juts out over the lake. Hike the park's trails or go kayaking on nearby bayous Cane and Castine. The Tammany Trace hike/bike path runs through the park, perfect for cycling, hiking, and in-line skating.

The fishing is excellent in Mandeville. Throw out a line from your perch on the seawall along Lakeshore Drive or check out the Mandeville Pier at Sunset Point for great fishing and a view of the sunset and the 24-mile-long Lake Pontchartrain Causeway Bridge. 
If you are looking for events, Mandeville's bi-annual Sip n' Stroll with 25+ stops in all--restaurants, bars, and shops, all within walking distance of the Mandeville lakefront-makes this a can't miss excursion. The Light Up The Lake 4th of July Celebration has families lining the lakefront with coolers, picnic baskets, and lawn chairs for an unforgettable sunset concert and firework display over the lake at dusk. 
Shopping in Mandeville is top-notch with plenty of options for shoppers, from national retail chains with home décor and the latest fashions to boutique interior decorating shops. See a complete list of shops on the City of Mandeville's website.

Don't miss the Mandeville Community Market, held each Saturday at the Mandeville Trailhead, for prepared foods, locally grown produce, crafts, and live music. Mandeville's restaurant scene is a good and varied one. Enjoy Louisiana seafood and other specialties with a water view at places like Pat's Rest a While or Rips on the Lake. Have a craft brew at The Barley Oak or an awesome breakfast at everyone's happy place, Liz's Where Y'at Diner.  

Be sure to catch a show at Ruby's Roadhouse, which Rolling Stone magazine called one of the best roadhouses in the country, and plan a trip around concerts (held fall and spring) at the Dew Drop Jazz & Social Hall, believed to be the oldest unaltered jazz hall in the world.