Liz's is one of the most popular spots on the Northshore, both for its food and the spunky Liz Munson. Great pancakes, several varieties of eggs Benedict, fried green tomatoes, shrimp remoulade, biscuits with debris (roast beef bits and gravy). 
Rent Bikes at Brooks' Bike Co-op for a ride around Old Mandeville.
Brooks Bike shop has three locations near the Tammany Trace, the 31-mile bike path that winds through St. Tammany Parish. Renting a bicycle or three-wheel is the perfect way to get around the charming Old Mandeville area. The Tammany Trace is the first rails-to-trails conversion in Louisiana and was inducted into the Rail-Trail Hall of Fame in 2017. It begins in Covington and connects five Northshore communities through old-growth pines, over rivers, and through green space. 
Ride along the seawall walking path along Lake Pontchartrain.
The giant oaks along Mandeville's Lakeshore Drive are iconic for this lovely town situated on the northern shore of Lake Pontchartrain at the foot of the Causeway bridge. You'll pass beautiful historic homes, many on the National Register of Historic Places and restaurants with a water view.
Explore shops along Girod Street.
You'll find ladies clothing, antiques, art, and gifts galore in the quaint shops along Girod Street.
Lunch at any number of restaurants in Old Mandeville
Hambone (right in the middle of shopping on Girod St.), is one of the most popular eateries.
If you like history, you'll love this stop. See how the wealthy New Orleanians summered in Mandeville at this example of Creole architecture lovingly restored by the Old Mandeville Historic Association. Pick up a map of the historic homes on Lakeshore Drive here.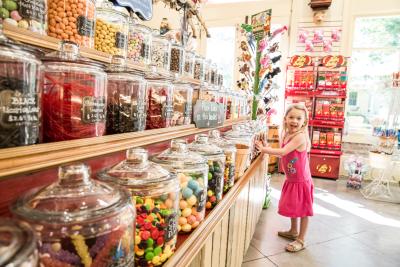 Sweet nostalgia is served up here along with every type of candy you can imagine, nectar sodas, ice cream, and home-made fudge. 
Located on the former grounds of Bernard de Marigny de Mandeville's sugar plantation, Fontainebleau is 2,800 acres with camping, hiking trails, a sandy beach, and very popular over-the-water cabins. See sugar mill ruins and alley of ancient oaks, as well as try to spot the over 400 species of birds that live in and around Fontainebleau. 

The Barley Oak is a biergarten with an expansive outdoor area and balcony overlooking Lake Pontchartrain. It's a great spot to enjoy a cold beer and the sunset over Lake Pontchartrain. 
This casual dinner spot with breathtaking views of Lake Pontchartrain is the latest new dining experience from restaurateur Pat Gallagher. Housed in a collection of historic buildings, the restaurant complex includes an oyster bar, menu starring fresh Gulf seafood, and plenty of outdoor dining on decks and the patio below.
This private B&B in a historic home is located in the heart of Old Mandeville on Girod Street. It has separate entrances for each of its two rooms, beautiful gardens, a patio, and private guest porches. Blueheronmandevillela.com 510 Girod St, Mandeville