Start the Day with Sunshine
Grab a seat outdoors at Abita Roast Company along the Tchefuncte Riverside and watch the world go by. Madisonville may be small, but it's big on charm. Order up the rich Cajun Praline Chicken & Waffles and Black and Tan Coffee to kick off the day right. Bring your pup along for breakfast, too. The patio is pet-friendly and offers plenty of shade to keep you and your furry friend cool.
 
 
 Set off on a Guided Tchefuncte River Cruise
 Captain Mike Jones is the charming, sun-kissed host of Louisiana Tours & Adventures, and he's eager to introduce guests to the waterways he grew up on. His private pontoon tours with tailor-made itineraries offer 3-and 5-hour cruises of the scenic Tchefuncte River. Experience Madisonville like a local and motor by the stately mansions on the river, spot alligators, bald eagles, great blue herons, and venture out into Lake Pontchartrain to admire the Tchefuncte River Lighthouse, especially beautiful at sunset. If you want to swim or sunbathe, wear a suit and bring a towel. Cooling off with a splash is fun for kids of all ages.
 Captain Rob Rouyer with Tchefuncte River Charters is not only a captain, but also a DJ by trade, and his 26-foot pontoon party barge can accommodate 12 passengers and is equipped with a sweet setup that includes a bar, LED lighting system, sound system with Bluetooth and onboard restroom.
Both Captain Mike and Captain Rob know all the great spots to stop along the Tchefuncte River. Bring your own spread for noshing or moor up for one of Madisonville's waterfront restaurants.
Midday Meal
Enjoy lunch on or near the water in downtown Madisonville. Louisiana seafood is a specialty on each of these menus.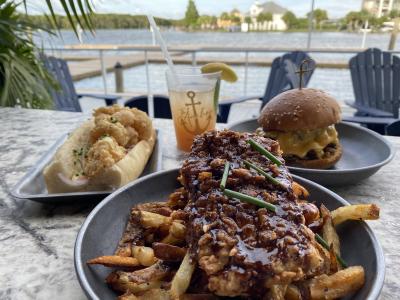 The Anchor
Louisiana Fish & Chips
407 St. Tammany St.
(985) 323-4800
Morton's Seafood & Bar
Soft Shell Crab Seafood Boat
702 Water St.
(985) 845-4970
Orlando's Seafood Restaurant
Stuffed Flounder Platter
304 Hwy. 22 West
(985) 845-4446

 Maritime History
 It's hard not to imagine the nearby Tchefuncte River filled with schooners, warships and steamers when you visit the Lake Pontchartrain Basin Maritime Museum. Located on the site of the former Jahncke Shipyard, the LPBMM tells the story of the Northshore's seaport roots through well-done exhibits, artifacts (have you ever climbed inside a Civil War submarine?), detailed dioramas, video, and replicas of everything from Bateaux to pirogues. Maritime life is also reveled in annually at the Wooden Boat Festival, the largest congregation of wooden boats on the Gulf Coast. The event stretches from Water Street and the Tchefuncte riverfront for several blocks to LPBMM, which hosts the fest to benefit its educational programs and Madisonville lighthouse restoration.
Elegant Evening
Live a little, you're in Louisiana and the food is fabulous. Don your best dress and pamper yourself with a night out on the town. We see a craft cocktail or an excellent vintage in your future.
Impastato Cellars
Seafood Canneloni, Redfish Marcello, Limoncello Cake
Keith Young's Steakhouse
U8 Seared Sea Scallops, House Cut Filet with Potato au Gratin, Bread Pudding
Tchefuncte's
Turtle Soup, Roasted Gulf Grouper, Warm Sticky Praline Cake