BARS & NIGHTLIFE IN
ST. TAMMANY
On Louisiana's Northshore, "work hard, play hard" isn't just a phrase, it's a way of life, and we greet everyone with a friendly smile and an ice-cold brew. Whether you're looking for the ultimate Bloody Mary on a sunny Sunday morning, $5 glass of wine at a hoppin' happy hour, or a beer from one of our local craft breweries to sip over a game of pool or great conversation, we have the place for you.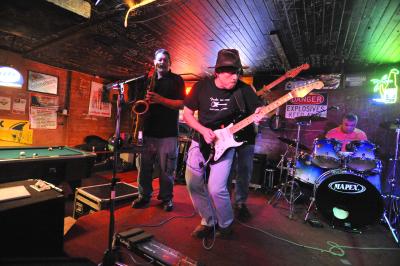 Nothing beats the atmosphere of a venue with live music when the band and crowd are in full swing. Come catch local acts such as Christian Serpas and Ghost Town, Bag of Donuts, Tab Benoit, Four Unplugged, Supercharger and many more and rock the night along. Check our listings below, and these local favorites.
Party hard at Ruby's Roadhouse in Mandeville, featuring potent drinks and full-tilt Louisiana boogie mode. Northshore and New Orleans act rock this one-time juke joint and its bouncy wood floor, long bar, and friendly regulars. Rockin' Dopsie plays here, so do the Iguanas, Tab Benoit, and Four Unplugged. Even tough dude/movie actor Steven Seagal played here. Work up a sweat on the dance floor, then head outside for a drink and fresh air on the patio out back.
Get your mojo workin' at Whartons Craft Cocktails, a cool, dark space in downtown Covington. Low cover charges, reasonably priced drinks and room to dance to the sounds of regional acts. Rock, reggae, metal, acoustic jams and beyond flame the fans into the night.
Columbia Street Tap Room & Grill - This local favorite serves up 30 beers on tap (and good sandwiches and salads), along with live music on Thursday, Friday and Saturday nights. Regional rock acts include Bag of Donuts and Rick Samson and Friends. Room to dance and a great patio, smack in the middle of historic downtown Covington.