Santa Claus can be sighted at select places all across Northshore during the 2023 holiday season, especially for photo ops with the kiddos.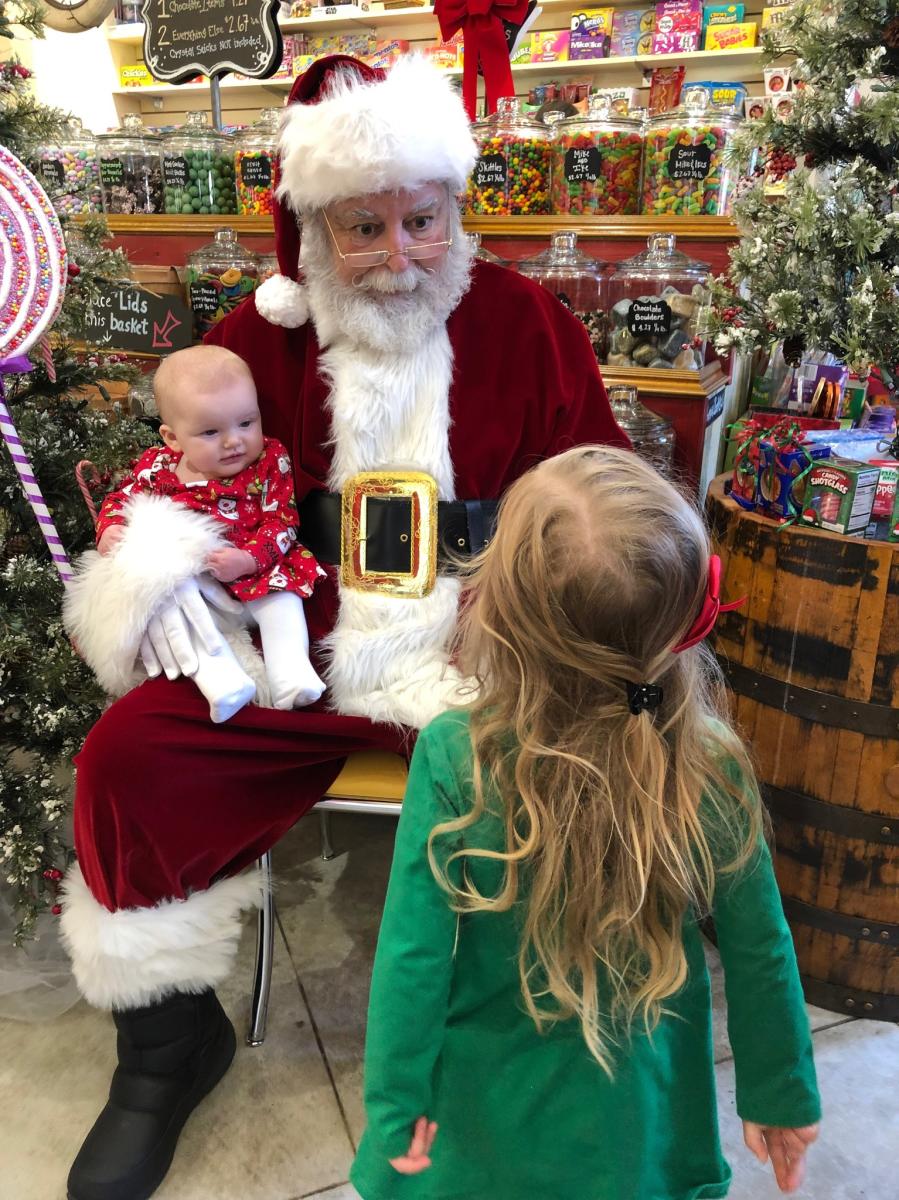 Santa listens to Christmas wishes at The Candy Bank in Mandeville

Shopping + Santa
On Saturday, Nov. 25, for Small Business Saturday, HJ Smith & Sons Hardware Store & Museum in downtown Covington will have Santa on the porch swing for free photos, 10 a.m.-1 p.m. -- just bring your camera. Also that day, in Mandeville, get a professional, 4"x6" print with Santa at The Candy Bank, from 1 p.m. to 4 p.m. ($25). No reservation needed.
Santa lends a festive air to your shopping on Friday, Dec. 1, 6-9 p.m., at Christmas at TerraBella's Tree Lighting and Holiday Marketplace, and at the Mandeville Trailhead's extended Holiday Market on Saturday, Dec. 16, 9 a.m. to 3 p.m. 
And, although it's not on his busy schedule of appearances, you can see his likeness in many forms at the Christmas Extravaganza Arts & Crafts Expo at the St. Tammany Parish Fairgrounds in Covington, Dec. 1-3; at Christmas under the Oaks evening art market in downtown Covington on Saturday, Dec. 2; and at the Christmas Past Festival in Mandeville, Saturday, Dec. 9. 
Free photos with Santa Claus at Don's Seafood in Covington

Santa + Food
Families can support a good cause while brunching with Santa on Saturday, Dec. 2 at the Youth Service Bureau's Your Santa Breakfast, 8-11 a.m. at Lakeview Regional Medical Center in Covington, or the Northshore Mandeville Kiwanis Club's Pancake Breakfast with Santa, 8-11 a.m. in the Fontainebleau High School cafeteria.
Santa makes two stops at Don's Seafood Covington this year: Sunday, Dec. 3 and Tuesday, Dec. 12 for Cajun brunch and free photos.
On Saturday, Dec. 9, entertain the kiddos in Mandeville with Santa and holiday treats at Pelican Park's Breakfast with Santa, 9-11 a.m., or later in the day at Merry Mande Holiday Tea, where Santa will pose for professional photos and shake it with the Mande Milkshakers, 2-5 p.m. at Mandeville Trailhead. Santa will also visit Aldersgate United Methodist Church in Slidell, who appeals to Saint Nick's sweet tooth at Cookies and Milk with Santa, 10 a.m.-12 p.m. 
Note: register in advance for dining events!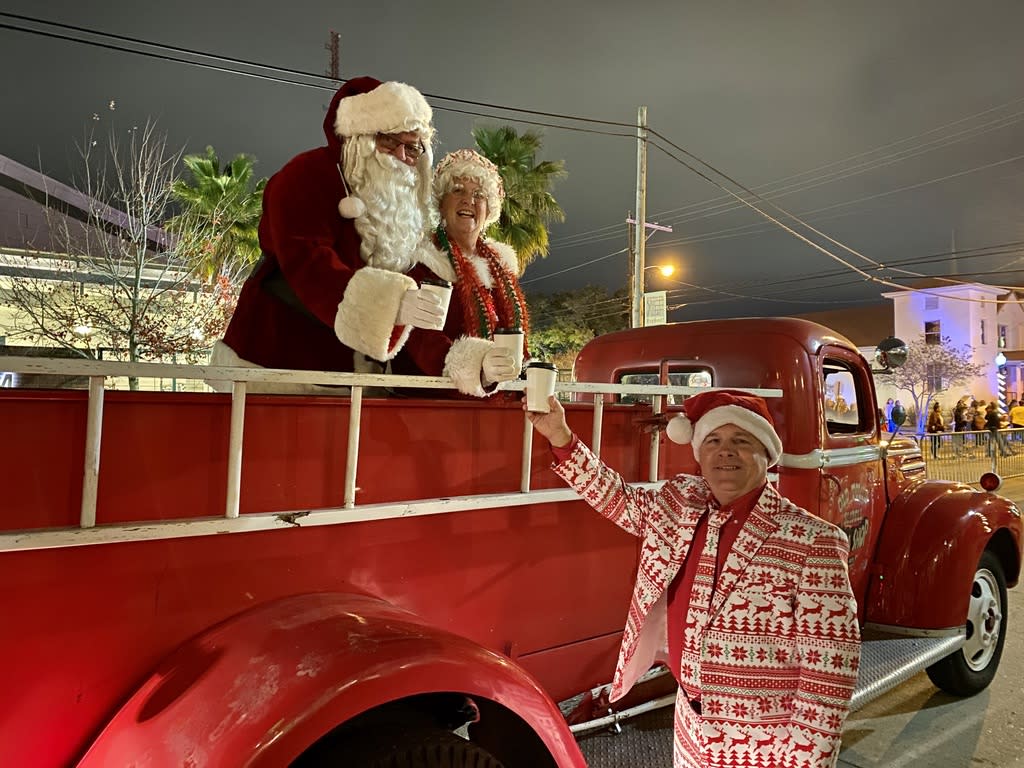 Santa rolls in the Olde Towne Slidell Community Christmas Golf Cart Parade

Santa on Parade
Working his everywhere-at-once magic on Saturday, Dec. 2, Santa rolls along the Mandeville lakefront for the Winter on the Water Santa & Boat Parades, 4-6 p.m., pausing for pictures and music at the gazebo. Then, Santa and Mrs. Claus fly the sleigh to Slidell for the Olde Towne Slidell Community Christmas Golf Cart Parade from Slidell City Hall to Griffith Park, where they will participate in the annual lighting of the trees at Christmas Under the Stars, 5-7 p.m.
Madisonville celebrates the season on Sunday, Dec. 3 with Merry Madisonville, starting with a parade at 2 p.m. Santa, Mrs. Claus and Ms. Christmas will welcome everyone to "Santa's Workshop" at the Ball Park pavilion for free photos after the parade. 
On Saturday, Dec. 9, Santa will journey over the river and through the woods to Folsom to drive his horse-drawn wagon in the Folsom Horse & Wagon Christmas Parade at 1 p.m. He'll also appear at the Covington Trailhead for Christmas in Covington Parade & Tree Lighting, 4-6:30 p.m.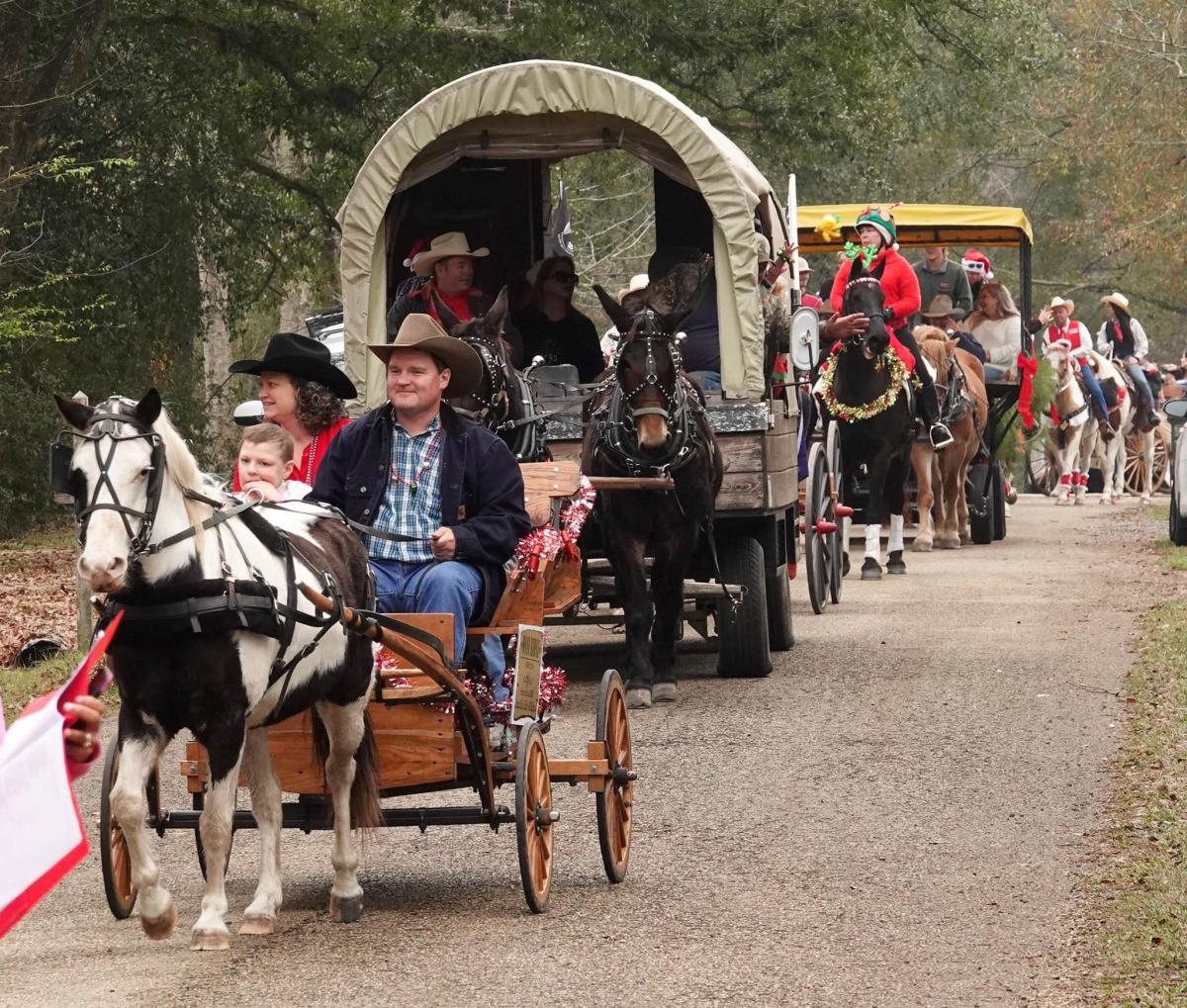 Folsom Horse and Wagon Christmas Parade
Santa Photo Op Extravaganza
The Jolly Old Elf wants to be in all your holiday pictures, frankly, so he's flying all over St. Tammany Parish this holiday season, especially on Saturday, Dec. 9.
He starts his day off posing with Mrs. Claus at The Book and The Bean's Pictures with Santa & Mrs. Claus, 11 a.m.-12 noon.
From 1-3 p.m., he'll be at Pelican Park for Santa-Paws Pics at the Castine Center. 
From 2-4 p.m., he'll be at the Mandeville lakefront for free pictures by the old fireplace in the Jean Baptiste Lang House (bring your own camera and your family, including the furry ones). At the same time (how does he do it??), he stops by the Bayou Lacombe Visitor Center for Cajun Christmas, where admission, photos, refreshments and wildlife crafts are all free. Be sure to check out the interactive wildlife displays at the center and explore the trails and grounds of the historic Bayou Gardens.
And, you can see Santa's many doppelgangers on the run from 9 a.m. to 12 p.m. at the Santa on Trails 5K Run/Walk in Fontainebleau State Park. Witness a flurry of red caps and white beards bobbing by as runners cruise through the park in full Santa suits. (Runners, register by Nov. 25 to get race swag!)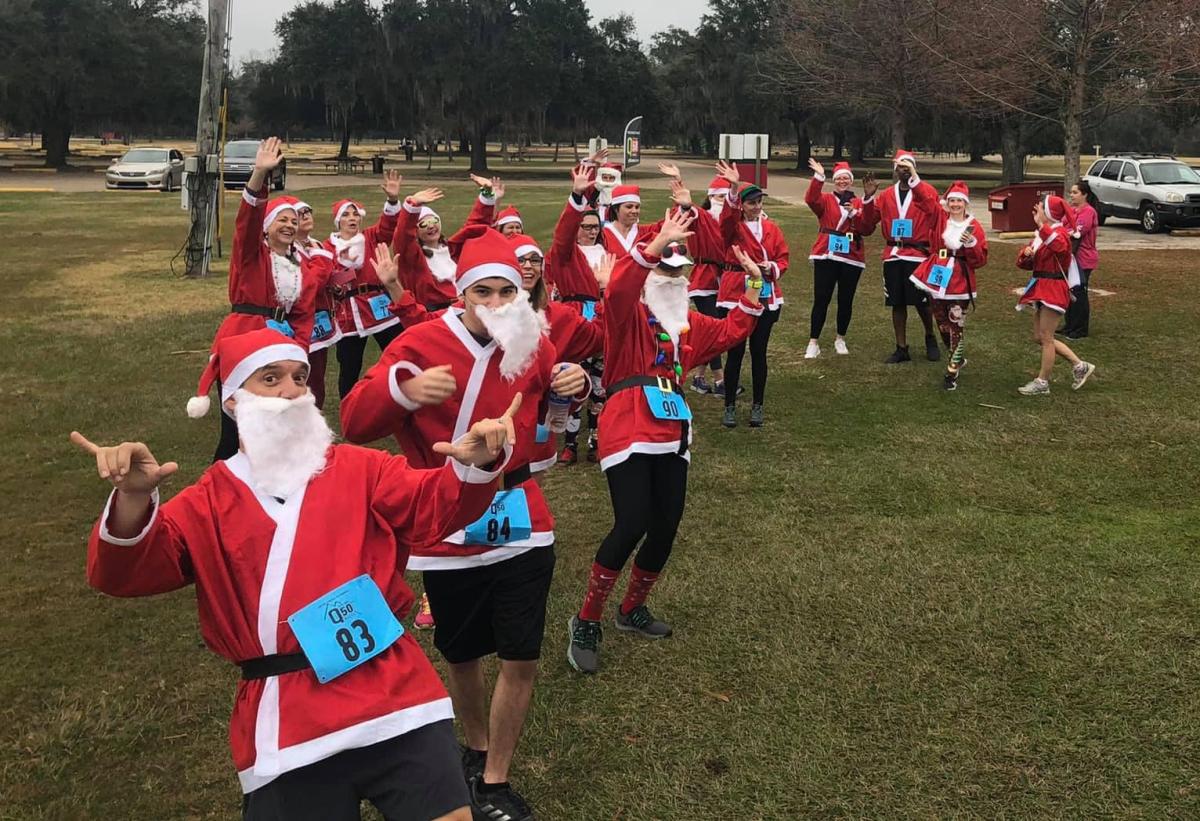 "Santa on Trails" Q50 trail race in Fontainebleau State Park

In addition to seeing thousands of lights at the 24th annual Holiday of Lights, you can visit with Santa on special event nights, Dec. 1, 2, 8 and 9, from 6 p.m. to 8 p.m. each night. 
Santa also makes stops at The Majestic Dog Boutique in Mandeville for pictures with your pups on Sunday, Nov. 26 and Dec. 3, 10 and 17 so you can have a digital photo of your furry friend with the merry old elf (11-4 p.m. each day, $15 per family).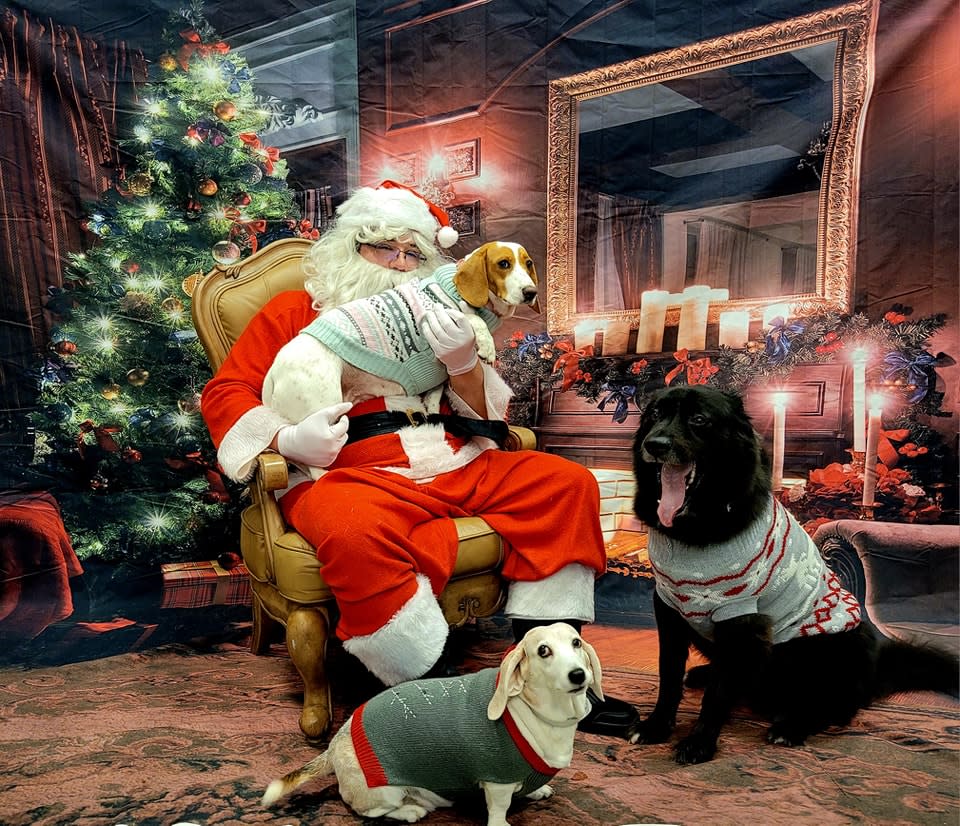 Photos with "Santa Paws" at The Majestic Dog Boutique in Mandeville
He'll also spend some time in Heritage Park for free photos with your fam during Slidell's Bayou Christmas, Dec. 15, 16, 22 and 23.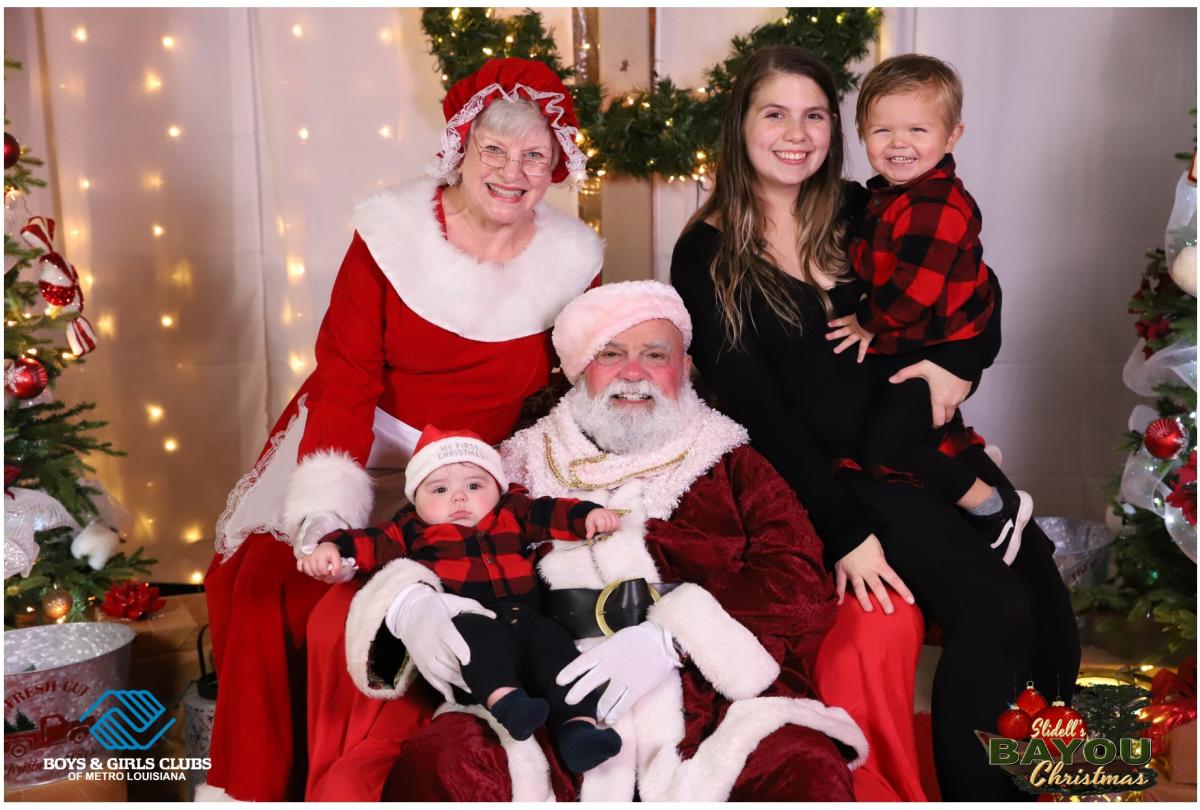 Find more holiday fun in our event calendar.