There's nothing like a cool breeze under a sunny sky to put you in a festival mood, and when crisp northern air reaches the Deep South, St. Tammany Parish is bursting with festivals and outdoor concerts, right through the end of the year. Autumn on The Northshore means bountiful harvests at our farmers markets, sparking inspiration in the kitchens of our farm-to-table restaurants. Fall is when we go shopping for cozier fashions at our charming boutiques and hunt for unique handmade creations at special events, perfect for those looking to get a leg up on holiday gifting. 
You'll find plenty to do and see, so to help you make the most of your visit, we've put together a round-up of don't-miss activities for you to explore The Northshore's entertainment and culinary scenes like a pro. St. Tammany residents will love this list, too--reminders for why we love living here!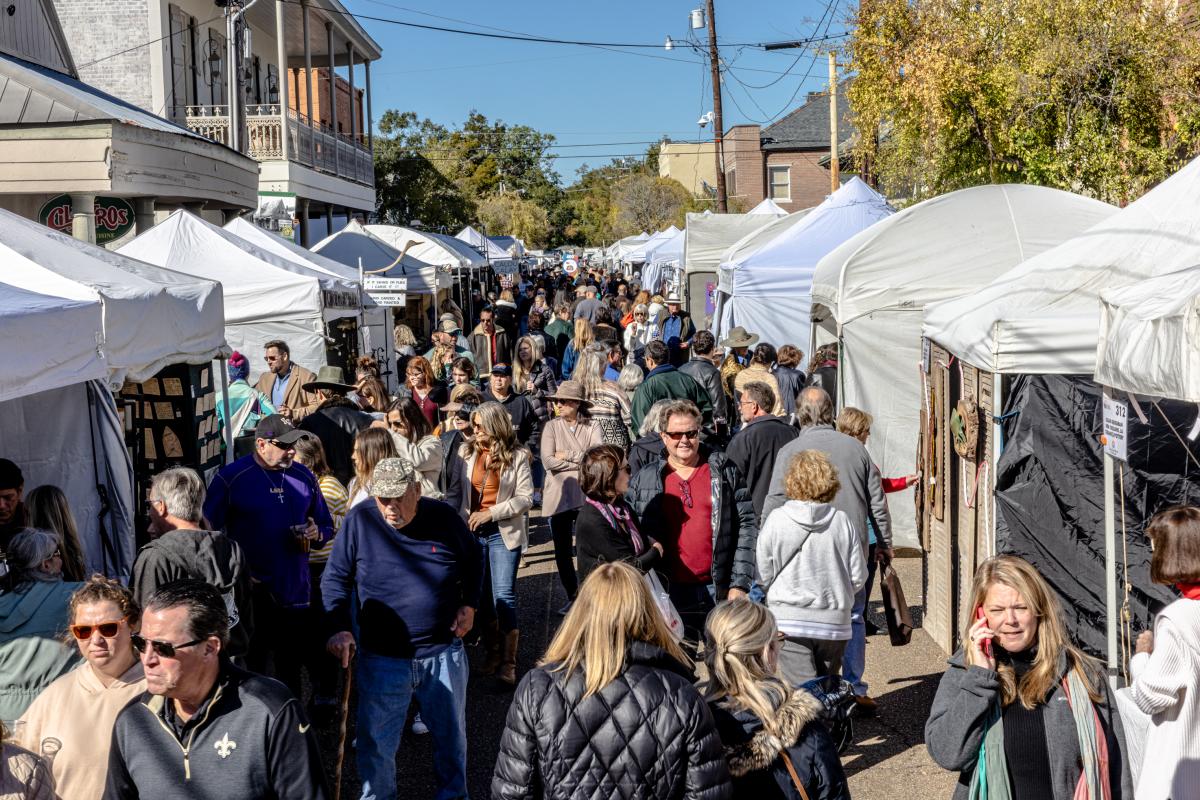 1.   Fall Festivals of Food, the Arts & More
Locals take advantage of the cool, beautiful weather on The Northshore each fall to go to some of the best festivals all year. You'll find beaucoup food vendors at all our festivals, but those with an adventurous palate won't want to miss the Wild Game, Seafood & BBQ Cook-off in Slidell on Sep. 30. You'll find a bevy of flavors at the Louisiana Food Truck Festival Oct. 7, too. Savor authentic German foods and fun at Northshore Oktoberfest by A Rhea of Hope, Sep. 30 in Fontainebleau State Park, at Oktoberfest in Olde Towne, Oct. 7 in Slidell, and at Middendorf's Oktoberfest, Wednesdays and Thursdays at the Slidell restaurant, Oct. 4 - Nov. 9. 
If music festivals are your thing, get tickets now for the Bluesberry Music & Art Festival, happening on Oct. 7, and Abita Fall Fest, Oct. 20-21. Save the date for the inaugural Rockin' the Lake Music & Arts Festival at the Mandeville lakefront, Oct. 21. Scroll below for lots more live music options. 
Looking for pumpkins to decorate your home or carve into jack-o'-lanterns? Bring the kids for family fun at the Olde Towne Pumpkin Festival in Slidell, Oct. 7, and Pumpkins at the Park & Autumn Marketplace at TerraBella Village in Covington, Oct. 21. See our Spooktacular St. Tammany blog for more Halloween fun. 
On October 14, take your pick of a host of fests across the parish, including Fall for Art in downtown Covington, Wild Things at Big Branch Marsh National Wildlife Refuge in Lacombe, Angels Grove Family Fall Fest in Bush, and others on our calendar. One of The Northshore's largest festivals, a two-day celebration of Louisiana's maritime history, the Madisonville Wooden Boat Festival returns Oct. 14-15. The hilarity of the Quick 'n Dirty Boat Building Contest is not to be missed.
Or, if you prefer loads of options to revel in fall, celebrate 113 years of St. Tammany culture with exhibits, rodeos and carnival rides at the St. Tammany Parish Fair, Oct. 4-8, and all things antique at the Olde Towne Slidell Fall Antique Street Fair, Oct. 28-29. 
New to the Northshore this year is FearFest 2023 Paranormal Festival, happening Sep. 30-Oct. 1 at the Castine Center in Mandeville. With a host of paranormal investigators, horror enthusiasts, mystics and spooky cosplayers, this ghostly gathering is sure to lift your spirits.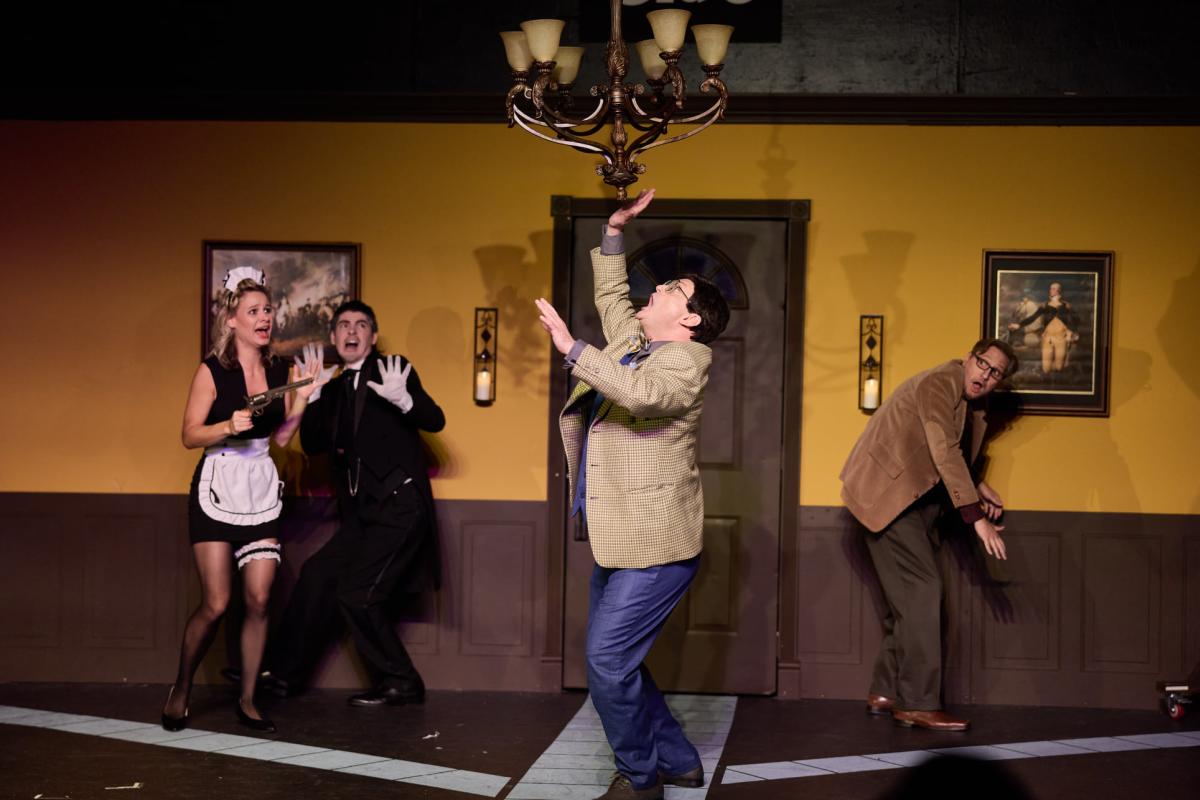 2.    Take in a Show
As September is the traditional start of new seasons at theaters across the country, St. Tammany's community theaters are already underway with their new season of shows, presenting plenty of options for theater lovers right through December, from comedies and dramas to musicals and holiday shows for the whole family.
In Mandeville, 30 by Ninety Theatre celebrates its 10th season of shows beginning with "13, The Musical", onstage Sep. 8-17, followed by "The Rocky Horror Show", Oct. 14-29. And, for the holiday season, the theater presents its 5th annual "A Very Merry Christmas Spectacular", Dec. 1-10. Most shows are 8 p.m. Fridays and Saturdays and 2:30 p.m. Sundays.
In Slidell, near Olde Towne, Cutting Edge Theater presents a musical tribute to Barbra Streisand with "Back to Barbra", onstage Oct. 6-14, and a post-apocalyptic adaptation of the cult film "The Rocky Horror Picture Show" with "Rocky Horror: Witches", onstage Oct. 21-28. Shows are Fridays and Saturdays at 8 p.m.
Over at the edge of Fremaux Town Center, Slidell Little Theatre presents "Harry and The Thief", Oct. 6-15 and "The Christmas Schooner", a new musical that takes place in turn-of-the-century Chicago, Dec. 1-17. Shows are 8 p.m. Fridays and Saturdays and 2 p.m. Sundays. 
In Covington, Playmakers Theater, Inc. presents the heartwarming comedy "Into the Breeches", Sep. 30-Oct. 15 and a fun musical adaptation of the classic holiday season favorite, A Christmas Story, Dec. 2-17. Shows are Fridays and Saturdays at 7 p.m. and Sundays at 2 p.m.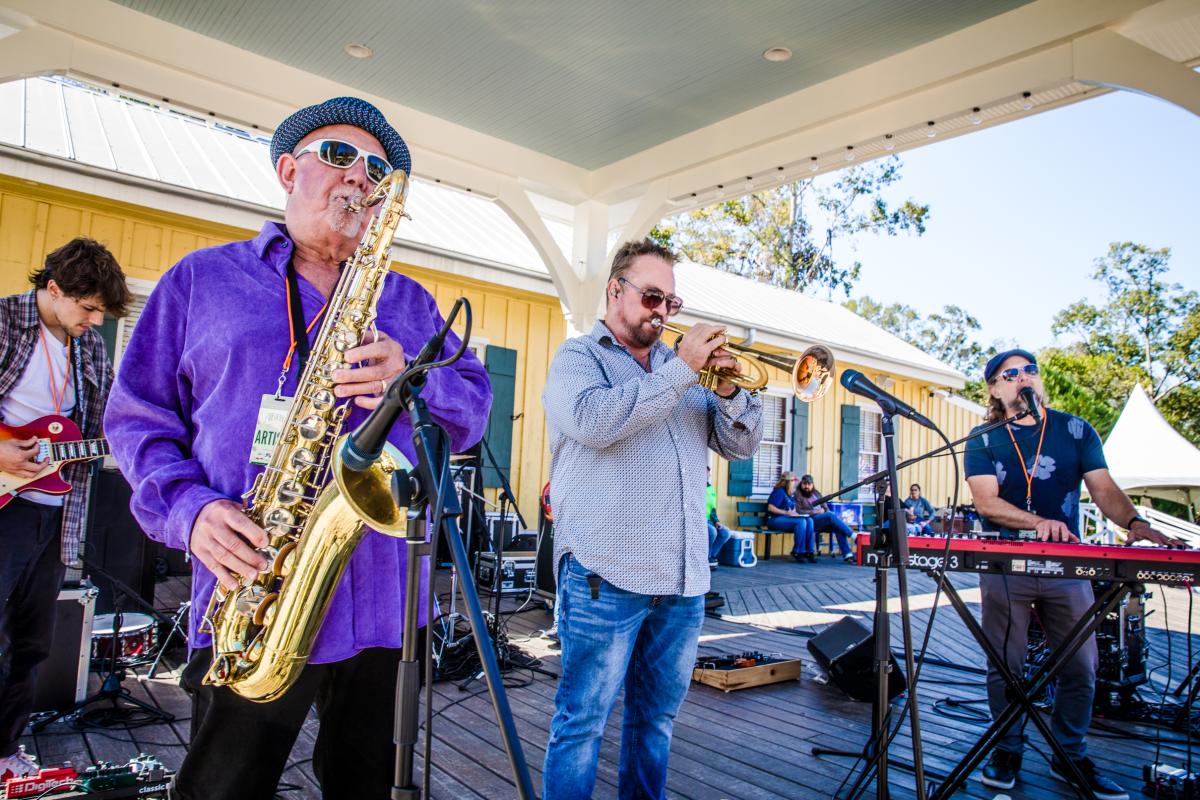 3.    Dance or Chill to Live Music
The Northshore is a great place to check out Louisiana's live music scene, too, because you can see lots of artists across a variety of genres. Many shows are outdoors, free, and family friendly, too. If you love original music and singer-songwriters, mark Nov. 3-5 on your calendar to catch the Ozone Songwriter Festival on the Northshore in Mandeville featuring hundreds of performing artists. Visit OzoneMusic.org for the daily lineup, stage locations and information about special events for songwriters.
The fall season of outdoor concerts kicks off in Mandeville on September 15 as the city presents its Free Friday Concert series with food trucks and drink concessions on site. Shows are 6:30-8:30 p.m. The Fall 2023 lineup features:
The City of Covington presents its own trailhead series with "Rockin' the Rails" on Thursday evenings, 5:30-7:30 p.m. Bring your appetite: different food trucks will be on hand each night, and downtown restaurants will be welcoming diners. 
The first concert, held at Rev. Peter Atkins Park, features the world-renowned pianist and his band, Jon Cleary and the Absolute Monster Gentlemen, on Sep. 28. 
The series continues weekly at Covington Trailhead. The lineup:
The City of Slidell presents its fall Bayou Jam series in Heritage Park beginning Sep. 22 with 5eaux4. The free concerts continue on Fridays with Redline, Sep. 29, The Bucktown All-Stars Oct. 6, and Slidell's favorite eccentric, Vince Vance & The Valiants, who closes the series with a Halloween-themed show on Oct. 27. Shows are 5:30-7:30 p.m. Bring lawn chairs, blankets and picnics.

For music under the stars with a picnic and bottles of wine, you'll want to travel north of Covington to Bush, to Wild Bush Farm & Vineyard for their Jazz'n the Vines concert series. The Fall 2023 lineup features:

For a taste of history with your live music experience, don't miss a show at the historic Dew Drop Jazz Hall in Old Mandeville. Shows are 6:30-9 p.m. Those who prefer a listening room experience should arrive early to get a seat inside, but if you prefer to socialize, bring a lawn chair to sit outside and listen. Box dinners prepared by members of the First Free Mission Baptist Church next door will be available. The lineup:

Finally, for lovers of New Orleans R&B, blues, folk, country, bluegrass or Americana music, there's the Abita Opry, with just three shows each fall and spring at Abita Springs Town Hall. Each evening features four acts, plus performers on the front porch of Town Hall before doors open. 
Sep. 16 - Steve Anderson Group, Gravel Storm, Cactus Thief, and Jacky Blaire and the Hot Biscuits
Oct. 21 - Three Rivers Cooperative, Lynn Drury, The Oliviers, and The Porch Rockers
Nov. 18 - Bad Penny Pleasuremakers, Pontchartrain Shakers, Sherman Bernard and The Old Man River Band, and Rick Ledbetter.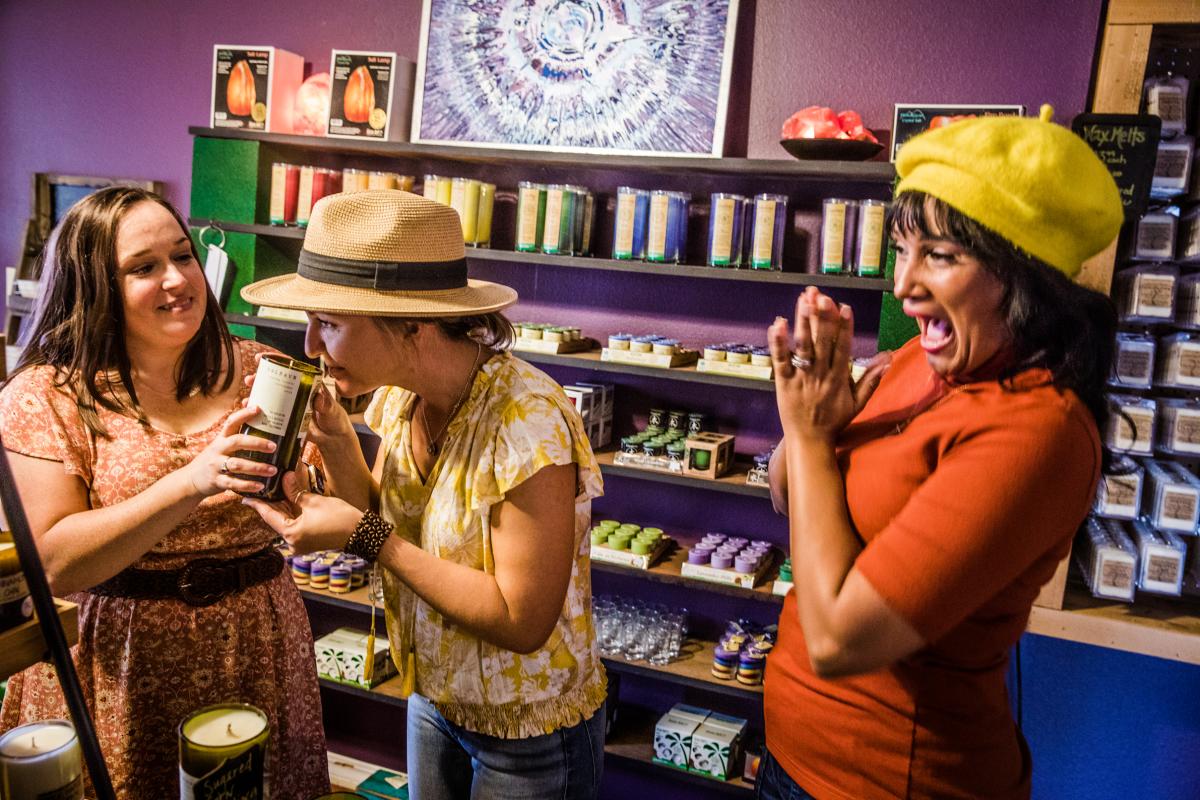 4.    Shop 'til You Drop
An art lover's destination, the annual Covington Three Rivers Art Festival, Nov. 11-12 along Columbia Street in downtown Covington, is an art collector's visual feast. It's an actual feast, too, with a tented food court and Covington's stellar restaurants throughout the walkable district. 
While our festivals include shopping among their offerings, the end of the year brings Northshore artisans and holiday shoppers together at several festive shopping events. Right after Thanksgiving, there's the Olde Towne Christmas Market in Slidell, Nov. 26-27, and "Christmas in the Country" in Covington, with special shopping events on Friday after Thanksgiving and every Saturday until Christmas. Also in Covington, on Dec. 1, is the Christmas at TerraBella Tree Lighting and Holiday Marketplace, and at the St. Tammany Parish Fairgrounds Dec. 1-3, the 39th Annual Christmas Extravaganza Arts & Crafts Expo.
In Mandeville, Castine Center at Pelican Park hosts the Just Between Friends Northshore Kids' Consignment Sale, Nov. 3-5, and the Sugar Plum Holiday Market on Dec. 6. Get "Wrapped Up" in old Mandeville, too, for its special shopping events throughout December, including the Christmas Past Festival Dec. 10 and the Mandeville Trailhead Holiday Markets Dec. 9 and 16.
In addition to special events, St. Tammany's diverse shopping options make it easy to find everything from national brands to handmade, one-of-a-kind items. Fremaux Town Center's trendy boutiques and department stores with loads of merchandise, to the furnishings, clothing, electronics and appliances at Nord du Lac Shopping Center, River Chase Shopping Center, and Stirling Covington Shopping Center along Hwy 21 in Covington. Antiques, Louisiana-themed souvenirs and handmade arts and crafts abound in Olde Towne Slidell, downtown Covington and the shops in Old Mandeville. If you can't find something great, you aren't lookin'!
Find more events and fun things to do on our event calendar, and be sure to follow us on Facebook and Instagram so you don't miss highlights of all there is to do this fall in St. Tammany.