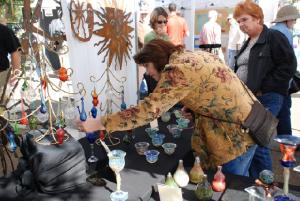 Art is all around us here, woven into the fabric of Northshore life.

Find it in the creatively decorated bikes parading in the Louisiana Bicycle Festival, in Mardi Gras floats, and at the eclectic Abita Mystery House.

Fun art and fine art. Classic and contemporary. Insider and outsider. Cheap, not so cheap, and top-end. There's the complex and nuanced work of such artists as Linda Trappey Dautreuil and Rick Brunner, the humor-tinged renderings of Francie Rich and Suzanne King. The vivid pastel paintings of Alan Flattmann and Mary Monk, or the plein air painters who display new work each spring at Abita Springs' Trailhead Museum. Dave Kelsey of Abita and Alexander Stolin of Madisonville are known for creating set pieces for the movie industry. Phil Galatas of Slidell is a world champion carver of waterfowl and muralist. Betsy Meyers-Green makes wonderful, wearable jewelry art in her Mandeville studio.

Seek art and you shall find it, especially if you do your hunting in the historic downtowns of Covington and Slidell.

The Covington art scene is centered on a six-block stretch of Columbia Street, where a number of fine galleries find homes among the restaurants, antiques shops and boutiques. In addition to the galleries, downtown presents monthly art walks, bimonthly markets and the Three Rivers Art Festival, a two-day juried extravaganza featuring 200 artists and drawing 50,000 visitors. 

When in downtown Covington, don't miss the Art House of the St. Tammany Art Association, a lovely gallery space housed in a 19th-century building. For over 50 years, the STAA has exhibited cultural exhibits and contemporary art shows, including an annual national juried exhibition in July and August, group and solo shows by accomplished regional artists, and work by some 50 artists at any given time in its members' gallery. The nonprofit also hosts art classes and presents two big events each year—Spring for Art and Fall for Art, free community events showcasing fine art, live music and the culinary expertise of Covington's renowned chefs.

At the heart of the Slidell art scene is the beautiful new Slidell Cultural Center, which presents everything from international touring shows to local children's exhibits. Managing the center is the city's Department of Cultural and Public Affairs, which also produces four annual festivals to showcase the power the arts have on enhancing the quality of life for residents and visitors.

Though severely impacted by Hurricane Katrina, Olde Towne Slidell has undergone a renaissance. The twice-yearly antiques fairs are back, as are home design shops, antiques shops and restaurants. Slidell-area artists, including the Slidell Art League and its juried exhibitions at City Hall, are a big part of that, bringing talent and creative energies to the scene. Travel along Front Street from Fremaux to Cousin Street and discover eight colorful murals depicting Louisiana's culture in the Olde Towne area. 

The quality of art and artists in any locale says a lot about that place. It says there is life. There is definitely life here on the Northshore. Life, and a culture of vibrancy and self-expression from one end of St. Tammany Parish to the other. Come see for yourself.