Lake Pontchartrain Blue Crabs
Summertime is here on the Northshore! In addition to its wonderful fisheries, St. Tammany Parish residents and visitors now have the option to catch what is considered the highly prized Lake Pontchartrain Blue Crab. Corey LaBostrie of Lacombe has been catching crabs in the lake since he was a child and said it is primed for a fantastic summer.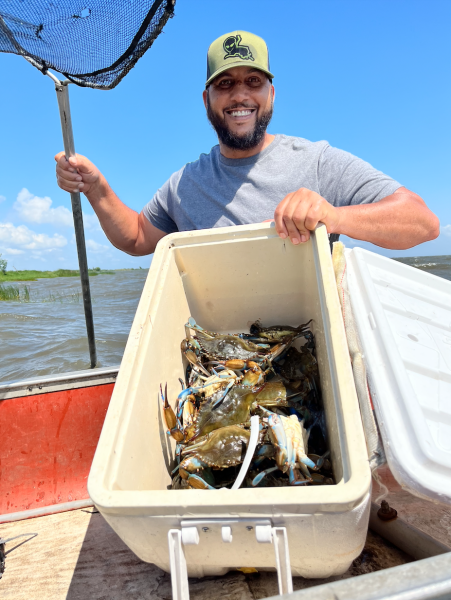 "Lake Pontchartrain is in great shape this summer and everybody's catching lots of crabs all over," he said. For those interested in taking advantage of the great crabbing bite on the Northshore, LaBostrie recommends a very simple method that only requires the most basic of materials. "Anyone can do this! All you need is string, some turkey necks, and a scoop net and you're in business," he said. The technique is simple and a bit self-explanatory but the idea is to tie your bait to the end of a piece of string that is approximately eight feet long. Most locals use turkey necks or chicken necks for bait because it's affordable and can be found at a variety of local supermarkets. After tying the bait to one end of the string you'll need to secure the other end to something on land and throw the bait out. It shouldn't take long for a crab to grab hold. When that happens, you slowly pull the string towards you and scoop them up when the crab is within a few feet."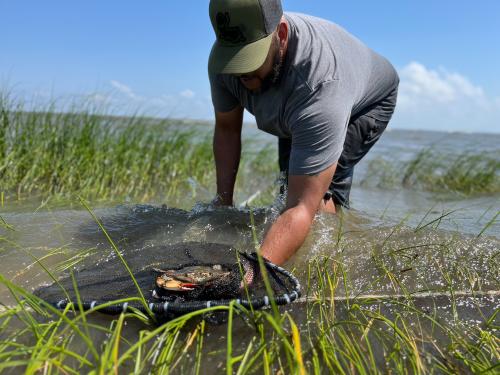 Restoring Tradition
While St. Tammany Parish is rich with a multitude of fishing options, it's also rich in culture and history. LaBostrie admits using a simple string and a scoop net is a successful way to put crabs in the hamper, he prefers a method that was taught to him by his elders when he was a teen growing up in Lacombe. It's a more primitive way to catch crabs and it is brilliantly simplistic. All that's needed is a dip net and something called a "crab pusher." (Picture the handle of a lawn mower with a blade on the bottom.)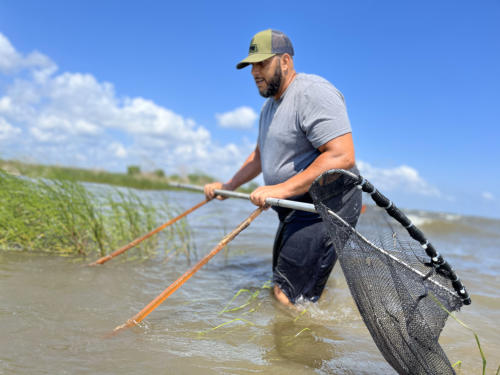 LaBostrie enters the water and walks along the shoreline in approximately 2-3 feet of water and pushes the tool through the grass that is growing on the sandy bottom. The crabs that are hiding in the grass are flushed out and LaBostrie scoops them up with his net. It's a technique that LaBostrie has used all his life but he credits the community as a whole for teaching him how to perfect it. "This technique was taught to me by my elders here in Lacombe when I was growing up. I remember Mr. Herbert Batiste going all the way from Bayou Lacombe to Goose Point just scooping up crabs," LaBostrie said.
Another bonus to using the pushing technique is the opportunity to catch soft-shell crabs which are at the top of the list for most people in Louisiana and considered a delicacy in the seafood world. LaBostrie said it's his favorite crab to eat and it's what makes this age-old method of crabbing worth it. "I've had several trips where I caught a dozen or more soft-shell crabs because it's the grass that they are hiding in when they are soft and vulnerable," he said.

While the productive results of pushing for crabs is a good enough reason to continue his method, LaBostrie said there's a part of him that gets nostalgic over the way things used to be and this is a small way to bring back the good ole days. "I can remember sometimes over a dozen cars all parked at the end of Lake Road in Lacombe. Everybody was out there walking in the lake with nets. This was how we crabbed back in the day," LaBostrie said. "Not many people do it anymore so I'm just trying to keep the tradition alive and to pass it on to the next generation."
Crabbing Locations
For those looking to try their luck with catching crabs, there are numerous places that offer a safe and family-friendly atmosphere. Among the most popular spots to crab on the side of the road is Lake Road in Lacombe and Main Street in Madisonville. Both offer access to picturesque tributaries (Bayou Lacombe and Tchefuncte River) that are connected to Lake Pontchartrain. Other options are the public fishing piers that are available to residents and visitors in St. Tammany Parish. The Mandeville Sunset Point Fishing Pier* has plenty of space and extends out 400 feet into Lake Pontchartrain. The pier is free to the public and has benches, a fish cleaning station, and even a picnic area on land, as well as plenty of parking available.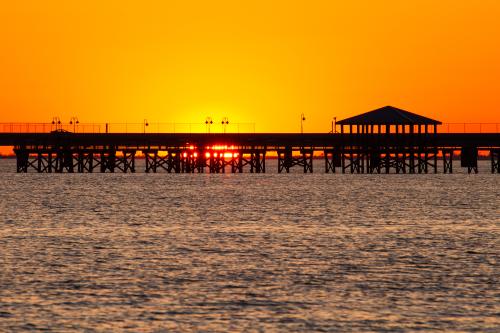 Another option for those interested in crabbing is the St. Tammany Fishing Pier in Slidell*. The pier was created from the original I-10 Twin spans, damaged in Hurricane Katrina, and again in Hurricane Ida. When open, it will serve as an option for those looking to use crab nets to catch crabs. Finally, don't forget the fishing pier in Fontainebleau State Park, which also stretches out far into Lake Pontchartrain and has plenty of space!
*Note: As of June 2023, both Sunset Point and St. Tammany fishing piers are closed due to damage sustained in Hurricane Ida. Check St. Tammany Parish Government for current status.
Do I Need a Fishing License?
For those who are crabbing with a string and bait, you will need to purchase a "Hook and Line" license via the Louisiana Department of Wildlife and Fisheries. The cost of the Hook and Line license is $5. For residents that have already purchased a Saltwater License, there is no need to purchase the Hook and Line license since it includes privileges that cover all types of crabbing including the use of crab nets and crab traps.  Those using crab traps are limited to setting 10 traps. All crabbers are allowed to harvest up to 12 dozen crabs a day.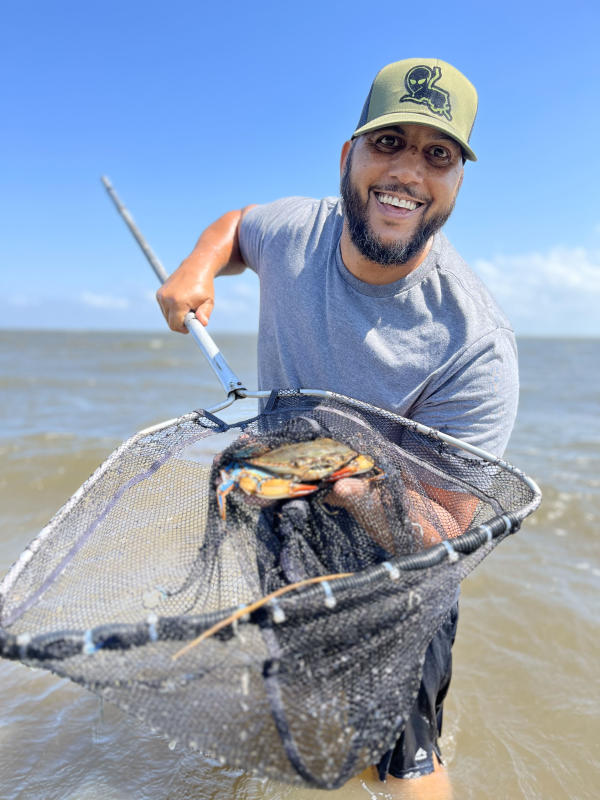 Story and photos contributed by Keith Lusher, Northshore Fishing Report.