Boo, y'all. It's Halloween in St. Tammany Parish, and there are no shortage of fun Halloween activities, pumpkin decorating contests, not-so-scary events, pumpkin patches and more on the Northshore. So break out your costume and let's get to Trick-or-Treating! 
Pumpkin Patches
The Garden Spot in Mandeville and Banting's Nursery in Lacombe has wonderful photo ops and a large collection of pumpkins, gourds and fall foliage in every color. Jim's Pumpkins on Florida Street in Mandeville and a variety of local churches like St. Michael's on Sharp Road in Mandeville also have pumpkin patches. Stop by and snap a shot!
Halloween Activities at Fontainebleau and Fairview-Riverside State Park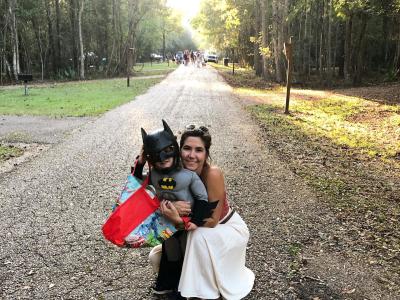 Camp with costumes at our two waterfront Louisiana State Parks, Fontainebleau in Mandeville on Lake Pontchartrain and Fairview-Riverside in Madisonville on the Tchefuncte River.  Plenty of treats and no tricks to be had here! Congratulations to our wonderful state park partners and the Louisiana Office of Tourism for reopening so quickly post-Hurricane Ida.
Fontainebleau State Park
Saturday, October 30: Trick or Treating in the campground 4:00 pm – 6:00 pm
Wear your costume for the annual Trick or Treating in Fontainebleau State Park. The road in the campground will be closed for trick or treating. Only foot traffic will be permitted for all of the treats and tricks your little campers can get!
Fairview-Riverside State Park
Every Saturday in October, campers wear their costumes and trick or treat between 4:00 and 6:00 pm!
Can't Miss Halloween Events
Olde Towne Zombie Crawl
Friday, October 29, 2021, from 5 p.m. – 10 p.m.
Olde Towne Slidell 
The Halloween-themed event takes place on four streets in the heart of Slidell--the 2200 Block of Carey St. between Robert and Cousin Streets. Spend an evening in Olde Towne for family-friendly fun with live music, local artists, craft vendors, after-hours shopping, kids' activities, pet adoptions and more. This is a pet-friendly event.
Columbia Street Halloween Block Party
Friday, October 29, 2021, 6- 9 p.m.
200-500 blocks of Columbia Street, Covington
It's the last Block Party of the year, and that means Halloween Block Party! Costuming is encouraged for all ages. Some shops and classic car owners have candy for trick-or-treaters, and more activities may be announced, mark your calendar!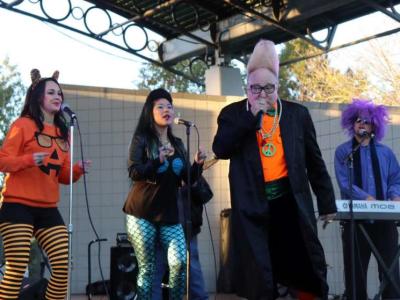 Bayou Jam: Vince Vance & The Valiants
 Saturday, October 30, 2021, from 5-7 p.m.
 Heritage Park in Slidell
The unforgettable entertainers Vince Vance & The Valiants are back to perform at one of Slidell's biggest Halloween parties at the Bayou Jam Halloween Bash. Kids of all ages are encouraged to come dressed in their Halloween costumes. Admission is free!
 Boo Bash on the Lawn
 Saturday, October 30, 2021, 10 a.m. to 12 p.m.
 Lawn at the Children's Museum of St. Tammany
Get ready for trick-or-treating, Halloween-themed games and crafts, and more. Activities are included with the $10 admission for any guest over 12 months old. Don't forget your costume! *The museum will be closed for this event* Tickets available at CMSTkids.org.
More Spooktacular Halloween Events
Friday, October 29th:
- Krewe of Dionysus Halloween Party at Slidell Municipal Auditorium in Slidell: 8pm to 12am; Entry is open to all. Admission is $45 for members of the Krewe of Dionysus, $50 for non-members.
- Trailhead Pop-Up Party at Mandeville Trailhead: 6:30pm to 8:30pm
Saturday, October 30th:
- Halloween Walkthrough of Louisiana's Savanna at Abita Creek Flatwood Preserve in Abita Springs: 9am to 11:30am; Admission $30 (includes lunch). Registration required.
- Olde Towne Slidell Antiques Street Fair ranging 5 blocks including Griffith Park in Slidell: 10am to 5pm
- Trunk-or-Treat and Fall Fest at Mandeville Sports Complex: 5:30pm to 8pm
- Trunk-or-Treat at American Legion Post 185 in Slidell: 3pm to 5pm
- All Hallows' Eve at Wharton's Green Room in Covington: 10:30pm to 11:30pm; Adults only.
- Halloween Walk at The Majestic Dog Boutique in Mandeville: 12pm to 3pm
- Camellia City Halloween Spooktacular Car Show at Northshore Square Mall: 8am to 4pm
- Fall Festival at True Life Church in Slidell: 4pm to 6:30pm
Sunday, October 31st:
- Olde Towne Slidell Antiques Street Fair ranging 5 blocks including Griffith Park in Slidell: 10am to 5pm