Louisiana celebrates its fantastic food with festivals year-round, but Carnival season is the sweetest, as we celebrate Fat Tuesday with King Cakes (check out our round-up of where to find them), and unique takes on the cinnamon-y dessert. Here are some sweet King Cake-flavored food and drink specials for Mardi Gras in St. Tammany Parish!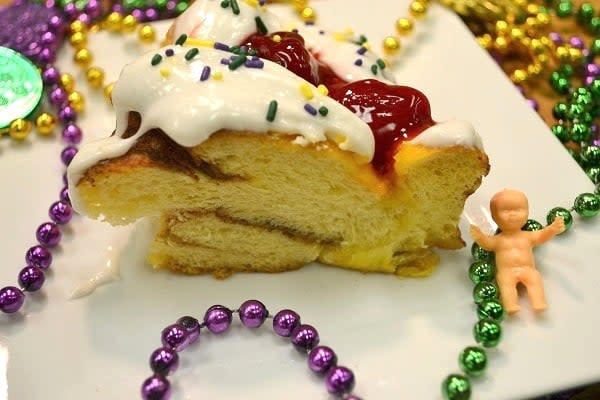 Most know that any respectable party during Mardi Gras season is incomplete without a king cake (or two, or three) and a sixer of Mardi Gras Bock from Abita Brewing Company.
It's the true queens and kings of Carnival who show up with a bevy of mini Ooey Gooey King Cakes by Chef Frentz at Lola Restaurant...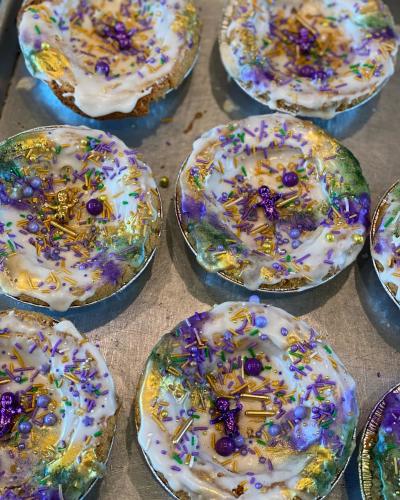 ...or a flaky, traditional Galette de Rois by Chef Sanchez at Tournesol Cafe & Bakery.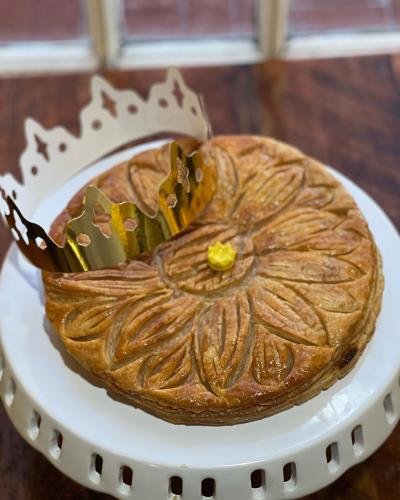 Northshore restaurants are taking things one step further, stepping outside the realm of the cinnamon-y and sugar-topped breads into cheesecakes, bread pudding soaked in rum, ice cream sundaes, frothy cocktails--even burgers. Ready to indulge your Carnival cravings?
 
Just Leave the Knife in the Box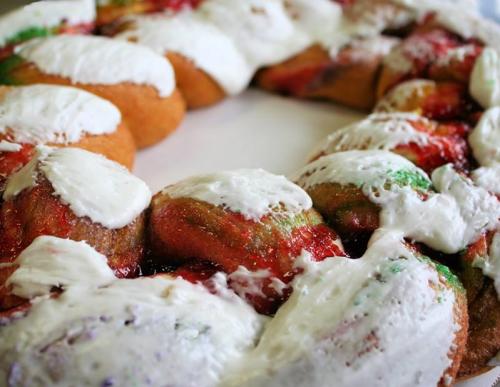 First, there are your classic cakes injected with jam, Bavarian cream or cream cheese and fruits, which you'll find by the dozen at your favorite local grocer--Acquistapace's, Rouse's and Winn-Dixie--as well as restaurants who add dessert to their menus for the season, like Mandeville Seafood Market & Eatery, who brings in cakes by Nonna Randazzo's King Cakes (locations in Covington and Mandeville). Randazzo's Camellia City Bakery in Slidell ships their cakes around the world, boxed with beads and other goodies. Get the full scoop about the bakery founded in 1965 in Poppy Tooker's podcast, here.)
 
Let's Try Something New
While you're in Slidell, make a stop in historic Olde Towne for a King Cake Sundae or a Mardi Gras Snoball from Old Town Slidell Soda Shop...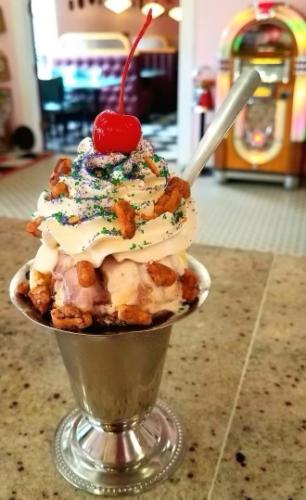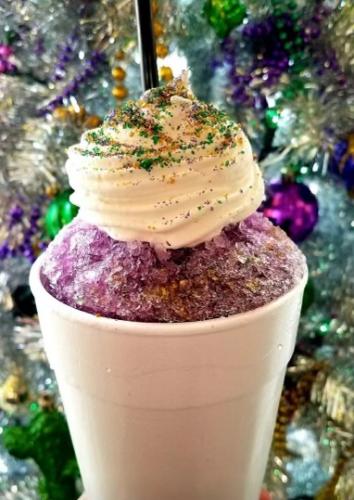 ...or, you could dine at Copeland's of New Orleans and finish dinner with a bit of King Cake Rum Cream Bread Pudding or Mardi Gras King Cake Cheesecake.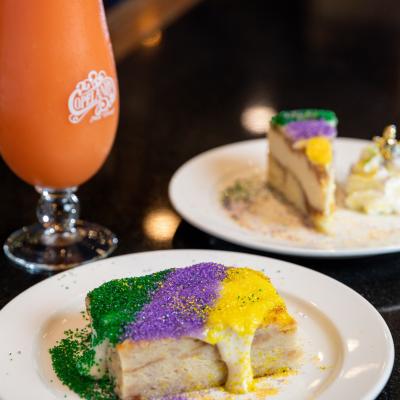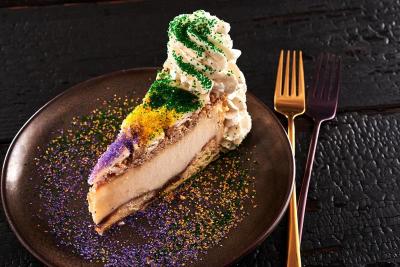 Of course, Copeland's in Covington carries the same treats, although February birthday babies might want to dig in to the Mardi Gras Cheesecake at Coffee Rani Covington or Coffee Rani Mandeville.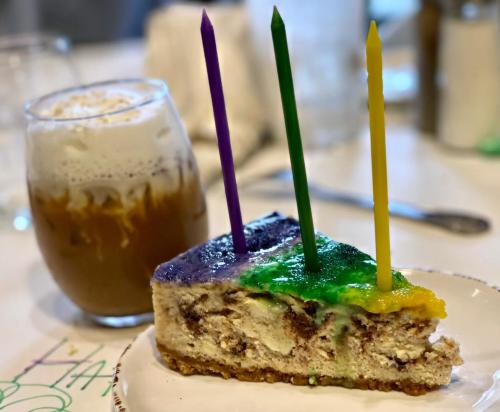 OK, Bring It On
The more adventurous will want to visit Epic Creamery for one of their eye-popping Mardi Gras Mambo Shakes...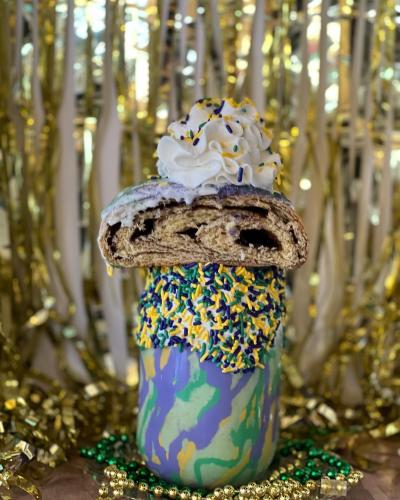 ...though if you're feeling really decadent, in the mood for pizza AND king cake, Reginelli's Pizzeria in Mandeville has you covered with their King Cake Cocktail.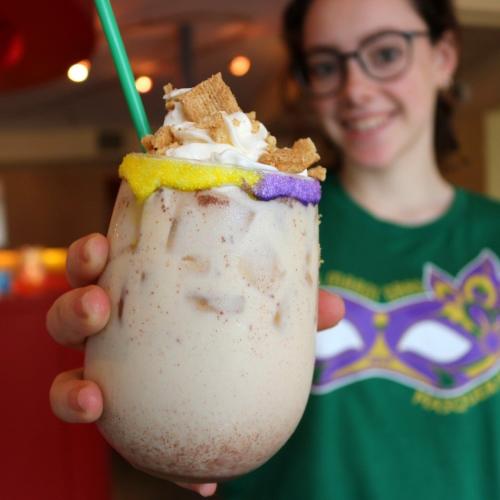 Not to be outdone in Mandeville, Creole Tomateaux takes the cake with their mouthwatering King Cake Bread Pudding...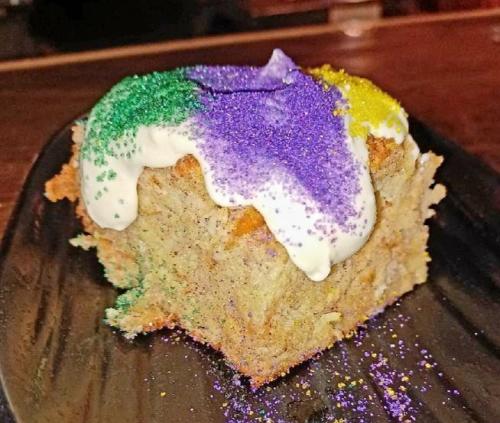 ...and goes for broke with their pièce de résistance, the truly decadent Creole Tomateaux King Cake Burger.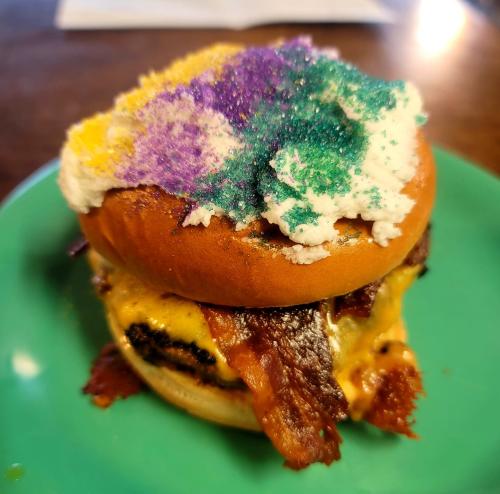 At this point, you're probably ready to pass out. Instead, sit back and relax at Abita Roasting Company in Madisonville by a warm fire with a cup of sprinkles-topped café au lait.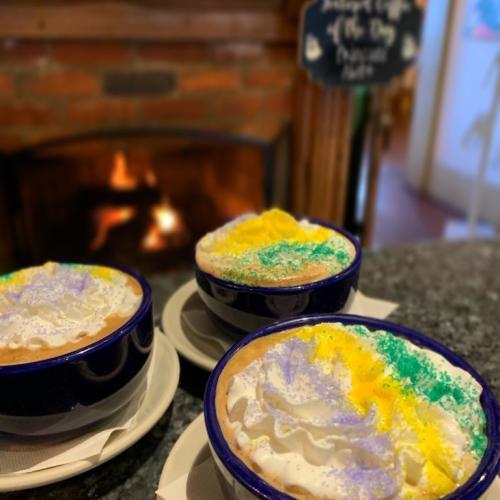 Have you discovered more Mardi Gras season goodies? Tag us on Facebook & Instagram and tell us all about it!
Bon Appétit and Happy Mardi Gras!