We're spotlighting some of our Black-owned businesses and community leaders that call the Northshore their home. We hope you will join us in celebrating the excellence that the Black community has brought to our parish! 
Mardi Gras season is a highlight for all Louisianans. This Mardi Gras season in particular is destined to be significant. For its historic 50th parade on February 11, Madisonville's Krewe of Tchefuncte officially crowned its first Black Queen: Rachel Sibley Brumfield. Brumfield is a successful paralegal, a 2018 graduate of Leadership St. Tammany, and a community volunteer in the Madisonville area.
Pictured: Rachel Sibley Brumfield, Krewe of Tchefuncte's 50th Queen
The Krewe of Eve in Mandeville is also making historic strides with their first Black royal maid, Betty Brock. Betty is the owner of Yum Yum Gimmie Sum mobile food truck, which regularly makes appearances at festivals and events in St. Tammany, serving everything from shrimp and loaded nachos to sno-balls and more. Betty is also a longtime community volunteer in the Covington area. She and her fellow maids and queen and king presided over the Eve parade Friday, February 10, 2023, in Mandeville.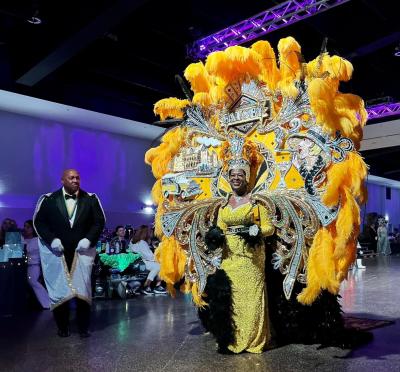 Pictured: Krewe of Eve Royal Maid Betty Brock with Royal Duke Cleveland Wester
Black Flower Apparel started as a side project for owners Howard and Amber Harper, but quickly grew into a staple on the Northshore. The couple designs apparel like t-shirts, totes and sweatshirts in an effort to celebrate Louisiana culture, diversity and inclusion and positivity. Go check them out at their adorable storefront located at 203 N. New Hampshire St. in Covington.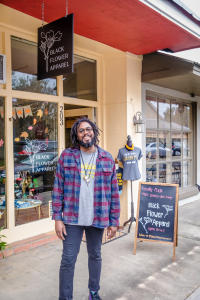 Pictured: Howard Harper and his downtown Covington store
Organically Wicked Candles & Tingz is owned and operated by a mother-daughter duo based in Covington. During the pandemic, Rheagan and Tonya stumbled upon unemployment, like many other Americans. They then put their heads together and combined their love of all things eco-friendly and luxe to create their own company. After months of planning, testing and prepping, the two launched their brand of non-toxic, natural soy candles and other goodies. All of their candles come in beautiful containers that can be repurposed for sustainable home décor. You can shop their products at Black Flower Apparel, local farmers markets or at https://organicallywicked.com/.  
Now we're going to take it to the other side of the Northshore. Roots Plants + Coffee is a coffee shop located in Olde Town Slidell that doubles as a plant store. The shop is run by Bryisha "B" and Michael "Mike" Lyons. B is experienced in creative horticulture and handles plant operations while Mike is the company's creative director and lead barista. Visit them at 124 Erlanger Ave., Suite B, in Slidell, where they've moved to an even bigger and better space right across the street from the original location.
Also in Slidell is Big Mama's Country Kitchen. This restaurant prepares decadent Southern comfort food you are destined to love. They serve all your favorite dishes from shrimp and grits to burgers to delicious gumbo and everything in between. They also offer keto and vegan friendly meal prep options. You can visit them at 2170 Gause Blvd W, Suite 117, in Slidell.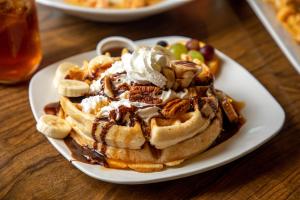 Pictured: Waffles with pecans & bananas at Big Mama's
A unique business in Slidell is Spoil Me Rott'n, a luxury day spa tailor-made for children. They offer a variety of different services like manicures, pedicures, cucumber melon facials, sugar scrub massages and more. They also offer various add-ons and party packages. You and your children can visit them at 691 Brownswitch Rd., Unit B, in Slidell.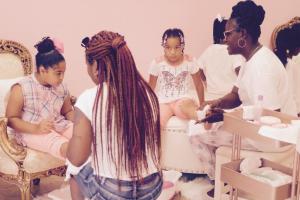 Pictured: Kids getting pampered at Spoil Me Rott'n
Another unique place in Slidell has everything you need for special events and private parties. Exquisite Rose Gift & Sweets Boutique is your one-stop-shop for great specialty gifts and adaptable event space, owned and operated by Sheena Jones-Scott. Her business sells quality rose bears, rose boxes, candy bouquets, money leis and more. You can check out the shop at 630 Robert Blvd. in Slidell.
The Northshore is home to many more Black-owned businesses. We hope that during the month of February, and all year long, you will help in supporting these businesses and people! For more information, visit https://www.louisiananorthshore.com/blog/post/black-owned-businesses-in-st-tammany-parish/ .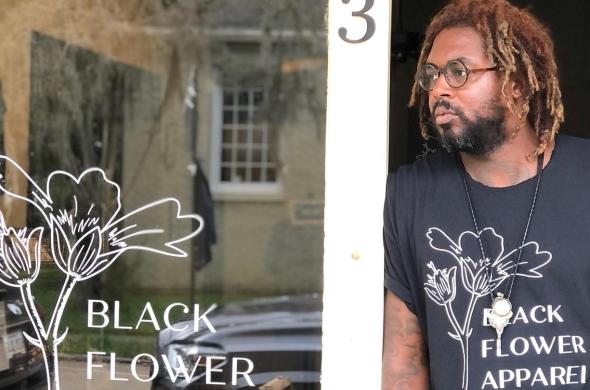 Activities & Attractions
Black-owned Tourism Supported Businesses in St. Tammany Parish
The number of Black-owned businesses continues to grow in St. Tammany Parish. With love from locals and visitors, these businesses and others will continue to thrive in our... Keep Reading