Western St. Tammany Parish was first settled by Choctaw, Tchefuncte, Acolapissa, and Houma  Indian tribes, which were drawn to the northern shores of Lake Pontchartrain for the area's dense oxygen-rich pine forests, abundant natural beauty, "curative" spring waters, and the ease of travel and recreation afforded by the close proximity to the Bogue Falaya, Bogue Chitto, Tchefuncte, and Abita rivers.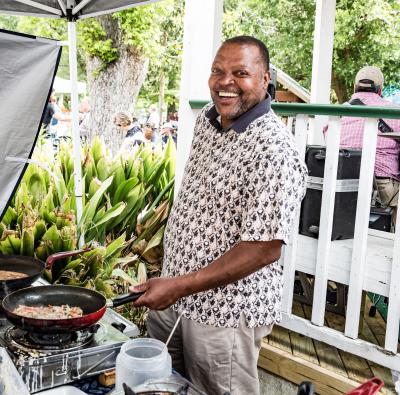 Those same inherent natural gifts call us now in a time when we seek the restorative gifts of nature, adventure, and exploration and the opportunity to reconnect in a manner that feels safe and refreshing.
Originally a corridor for the Illinois Central Railroad, the Tammany Trace is now a hike and bike trail that spans from downtown Covington, through Abita Springs, Mandeville, and Lacombe, and ends in Slidell. A separate equestrian path parallels the Trace in several places. The St. Tammany Parish government purchased the abandoned railroad corridor in 1992, paved the 31-mile pathway, remodeled the railroad trestles into pedestrian bridges, and presented it as a gift to the region. The trace is blissfully canopied in old-growth foliage and cypress trees that lend a bright, fresh fragrance while dropping the temperature by ten degrees.
Each of western St. Tammany Parish's historic towns is abundant with restaurants, boutiques, live music venues, art galleries, bars, and recreational outlets for enjoying water sports, equestrian activities, and biking. A particularly fine farmer's market pops up in downtown Covington on Wednesdays and Saturdays.
Several small boutique hotels, inns, and bed and breakfast establishments, each with its own distinct personality and amenities, support the area. These unique retreats share strict adherence to CDC sanitation guidelines that ensure the health, safety and well being of their guests and employees. All use disinfectant products that have been approved and certified by the U.S. Environmental Protection Agency for use against emerging viruses, bacteria, and other airborne and blood-borne pathogens. Disinfectants are applied during the cleaning of guest suites, public spaces, meeting rooms, and other "high-touch" areas.
In each of these establishments, guests are welcome but not required to wear personal face masks and gloves while visiting if this increases their level of comfort. Several properties offer 100 percent contact-free stays to guests, with all business conducted electronically. Where this is not possible properties enforce physical distancing between guests and team members in communal areas, which are also stocked with both hand sanitizers and/or sanitary wipes. For specific information regarding each property's sanitation procedures visit their website.
Now, let your hair down, be our guest, come stay awhile, and just b-r-e-a-t-h-e.
Historic Downtown Covington
            Stylish and graceful, with a flowing silver mane, bright eyes, and a glowing complexion, proprietress Linda Chambless' seemingly effortless elegance sets the tone for the guest experience at the Camellia House, the bed and breakfast she has operated with her husband, Don, for the past two decades in the heart of Covington's downtown historic district.  
            The couple bought the property in 1992 when their daughter, Sarah, was three years old. They spent eight years painstakingly restoring the raised circa 1900 Louisiana cottage while living in the house, managing full-time careers, and raising Sarah who frequently moaned "Why can't we live in a real house like real people?"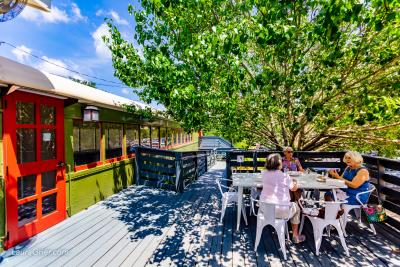 Linda's dream of monetizing her skills as a hostess, gardener, and interior designer came to fruition in 2000. Her oasis includes a large swimming pool with a hot tub and a fountain surrounded by elevated decking and extensive gardens, which she, as a Master Gardener, lovingly maintains. Each of the four sumptuously appointed guest suites is furnished with antiques and fine linens and has a private bath and private entrance from its own deep, covered porch. Scattered around the property are plushly appointed conversation areas shrouded with foliage—one with seating for four around a fire pit, another overlooking the small stream that runs to the rear of the property. Poolside, Adirondack chairs, porch swings, rockers, and hammocks invite blissful relaxation.
            Considerate amenities in each suite include Aria diffusers and therapeutic grade essential oils from Young Living for respiratory and immune support, relaxation, and improved sleep. Continental "plus" breakfast features cereals, juices, coffee, and quiche from the nearby English Tea Room. Guests may enjoy their meals at the small dining area in their suite or from the private dining area on their porch, each of which is also outfitted with a daybed overlooking the pool.
            Numerous nearby dining and shopping options are available within walking distance. Lola, opened in 2006 across the street from the St. Tammany Parish courthouse, is situated in a building that once housed the city's historic train depot. The tiny kitchen is in an actual train caboose where husband-and-wife chefs Keith and Nealy Frentz create fine Southern cuisine with local produce and Gulf seafood. Excellent soups, salads, sandwiches, and baked goods make this a casual hot spot. Recent offerings included blue crab arancini with lemon-truffle aioli, the LOLA salad with bleu cheese and candied pecan brickle, and a blackened wild salmon salad, all of it deftly prepared with great pride.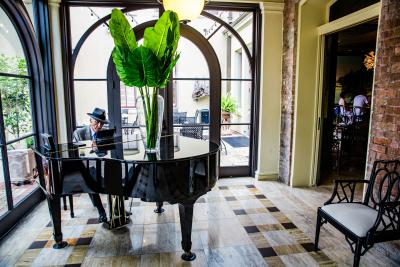 The Southern Hotel was a fixture in downtown Covington until the 1960s when the facade was altered to make way for a drug store. In 1983, St. Tammany Parish bought the building and for 20 years used it as office space and courtrooms. After Hurricane Katrina, it was used as a headquarters for the Red Cross and other federal agencies.
            The nearly block-long building sat mostly vacant until  2011 when developers Lisa Condrey Ward, Joseph Ward, and Ricky and Gayle Condrey picked it up at auction for $1.75 million.
            The reincarnated Southern Hotel reopened in 2014 after an $11 million restoration. The hotel seamlessly fuses the charm and beauty of Old Covington with the area's more contemporary personae. Rich, custom embroidered Garnier Theibaut linens merge with a collection of fine, contemporary art and glittering Italian light fixtures. Not one to forget her roots, the hotel is outfitted with a tasteful mix of imagery from the Old South to offset its contemporary sensibilities. The effect is alluring but mannerly: Guests feel special, pampered.
            A meticulous, thoughtful and detail-oriented, attorney, and preservationist, Lisa Condrey Ward was the member of the development team who drove the vision for the project, through which she says wanted to convey a sense of Covington's caliber as an arts community as well as its place in history.
             "I wanted to create a distinct sense of place so people understand exactly where they are," Ward said. "We are an artists' community with a history as a resort community.  People came here because it was relaxed, and it was about nature and just being on the rivers. "
            Ward hand-picked every item in both the hotel's communal and private spaces with an eye toward style and luxury. The eclectic mix includes bold as well as subdued colors, local art and photography, Venetian glass fixtures, French and American antiques, custom woodwork and an artisan fountain and swimming pool.
            The recent addition of the Garden House brought the number of rooms to 40 and suites to eight. The renovation of the 1937 Covington Post Office which includes a 1939 WPA mural by renowned artist, Xavier Gonzales has a decidedly tropical feel. The Garden House is situated where the original hotel's tennis courts and rose gardens were located in the early 20th century. Dorothy Draper would feel right at home floating about this space.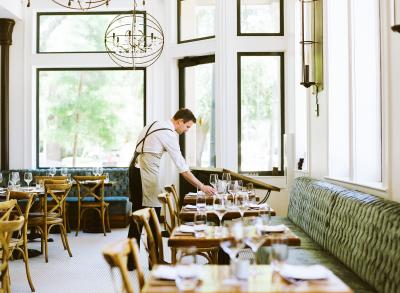 For a cocktail or a memorable meal, one need not leave the hotel property. Covington muralist Grahame Menage was brought in to depict the city's history upon the walls in the Cypress Bar, which was crafted of century-old native wood that was hauled up from a swamp bottom.  The bar also features a locally made, backlit, glass counter over which hangs Murano glass chandeliers from Venice. The bar serves craft cocktails, wine, beer, and cordials and opens to an expansive outdoor patio with an abundance of well-spaced seating and a wood-burning fireplace.
            Ward chose Executive Chef Jeffrey Hansell for the executive chef's position at Oxlot 9, so named as a tribute to the space upon which the hotel was originally founded. The farm-to-table Southern-style restaurant serves the general public while also providing culinary services to hotel guests and for special events. Hansell's 75-seat domain, which is entered from the corner of East Boston and New Hampshire streets as well as through the hotel lobby, picks up the use of century-old sinker cypress found elsewhere in the building. Soft, tufted banquettes of slate-blue velvet offer a view into the dramatic open kitchen where the chefs ply their craft. The space is awash in natural lights from massive picture windows overlooking the streets and gardens. Recent menu selections included tempura-fried squash blossoms with fermented chili aioli; a Caprese salad with crab-boiled mozzarella, frilled green heirloom tomatoes, and white remoulade topped with pan-fried soft shell crawfish; and Tagliatelle with crawfish, brie, wild mushrooms, braised onions and roasted garlic. Among other heavenly offerings, there was lavender crème brulee for dessert.
Old Mandeville
Sarah Chambless Federer grew up bemoaning her stature as the child of professional innkeepers who ran a bed and breakfast out of the stately family home in Covington.
            "'It's always 'Hush and shush. We have guests.' You are the meanest parents ever. I would never do this to my children," Federer, now 30, reportedly moaned every day to her mother, Linda Chambless, proprietor of The Camellia House Bed & Breakfast in historic Covington.
            In 2019 Blue Heron, the bed and breakfast Sarah owns and operates with her husband, Steven, in a gracious home they share with their two young children, was named Louisiana's 2019 B&B of the Year by the Louisiana Travel Association.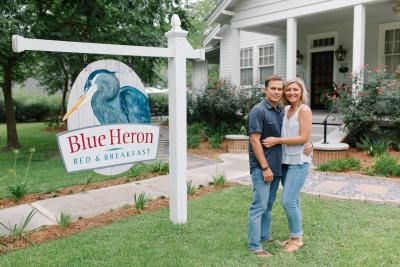 And the heron, if not the proverbial chicken has come home to roost.
            The lush gardens surrounding Blue Heron, plush seating areas surrounding an outdoor fireplace, the private entrances afforded to each of the two king suites via private porches, the daybeds and dining spaces on said porches, the luxury linens, and breakfast quiche from the English Tea Room—all of these acts of gracious hospitality, Federer gleaned from her mother. Conversely, it was Sarah who initiated the practice of supplying each guest suite with an Aria diffuser and therapeutic grade essential oils from Young Living for respiratory and immune support, relaxation, and improved sleep. Her mother adopted this practice at The Camellia House.
            Steven, a former restaurateur, tends to the family's extensive gardens.  Sarah is a natural health and wellness educator and an event coordinator for a marketing organization. Together they work obsessively to create a home away from home for their guests, many of whom arrive seeking nature pursuits.
            "We are two blocks from the trailhead of the St. Tammany Trace and Mandeville is located right in the middle of the 30-mile path," Steven said. "One day guests can set out toward Lacombe and Slidell. The next day they can hit Abita Springs and Covington. It's perfect. When they return for the day they can shower, change, and set out the door to so many different places to enjoy."
            Numerous restaurants are within walking distance including The Rusty Pelican, a casual eatery with outdoor seating on the porch, hefty burgers, fried seafood baskets and a generous beer selection. Romantic and breezy, The Lake House sets a glamorous tone with panoramic views of Lake Pontchartrain with dining on two levels of outdoor space. When in season, the fried soft-shell crab with Cappellini pasta, haricots vert, smoked tomato cream and a topping of additional crabmeat is a must-try.
Cindy and Clyde Touchstone could compel just about anyone to get behind the wheel of a yellow school bus. Both retired from that most essential profession, it was during her lengthy career time that Cindy meticulously conceived of a five-year plan for the couple's current blissful life as proprietors of a grand bed and breakfast, a plan she then executed in four years.
            She drew the extensive plans for the dramatically raised compound just steps from the coast of Lake Pontchartrain, had an engineer and then an architect sign off on it, broke ground in September 2014 and moved into the hidden living quarters she and Clyde share on the property in September 2015.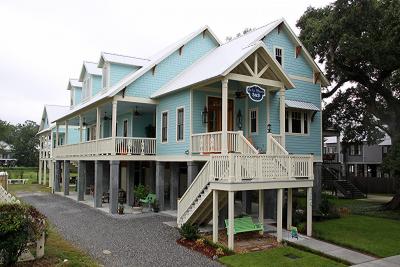 Together they continued to attack the project with Clyde doing every bit of the building—save for the hanging of the Sheetrock, which they contracted out. Outside, hand-cut railings and gingerbread tile in the gables highlight the handcrafted western red cedar corbels. French-style mahogany doors stand eight feet tall and accent the corbels. The interior features rich wood windows and knotty alder doors. The floors are hand-scraped bamboo, and the knotty alder island was custom-made. De la Bleau opened to guests in April 2016.
            "We are not the types to just sit around," Cindy said, stating the obvious.
            Tan, fit, and radiating energy, Cindy is also a gracious hostess and skilled cook. She handled the decorating of the property, down to placing every single penny in a dazzling tile pattern on the floor of a powder room off of the communal kitchen, which has 12' high deep, rich walnut cabinets and LED lights over our Akoya Pearl granite tops where she serves a weekend breakfast with fifteen different offerings.
            "My roasted bacon is mentioned in every review," she admits. "I am kind of well known for it."
            The dramatically raised property, which can accommodate up to 17 guests, includes ample parking, numerous indoor and outdoor gathering spaces, and an elevator. Each of the five guest suites has a different color palette, view of the lake, and includes wireless internet, HDTV, refrigerators, microwaves, coffee pots, blow dryers, safes, irons and ironing boards. They also include private baths and a dinette set.
            The Mandeville trailhead of the Tammany Trace is blocks away and numerous restaurants and attractions are just steps away including The Barley Oak next door which has an Old World feel with hearty food and an extensive beer selection. A bit further up the road is Liz's Where Y'at Diner, Cindy's top recommendation. Everything about Liz Munson's namesake restaurant reflects her vivid personality. Her cheerful breakfast and lunch spot has a menu that ranges from local standards like crawfish etouffee to more ambitious options like a Napoleon of fried green tomatoes with layers of pepper jack cheese and a shrimp and crawfish cream sauce topping. It's easy to love this place for the possibility of a delicious breakfast for under $5 bucks (toasted, buttered biscuits or creamy grits topped with roast beef debris gravy,) decadent double-stuffed chocolate-covered sandwich cookies, and Liz "Yeah, Baby" herself, who's always there chatting guests up over the Formica tables.
Abita Springs
Will Preble and Rachel Hudson reopened their gorgeous, two-year-old Abita Springs Hotel to the public after statewide stay-at-home rules were lifted in mid-May.  Preble's skills as a mechanical engineer and Rachel's as a graphic designer are evident in the way they attacked the overhaul of the 1890s single-family home that had sat vacant and gutted for 20 years, compelling passersby to christen it "The Haunted House."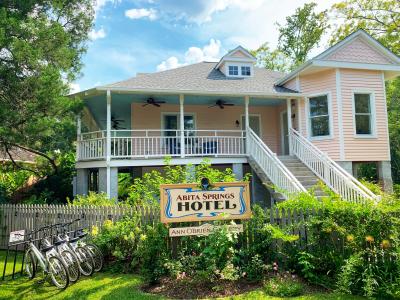 Now meticulously restored, the hotel offers peaceful and stylish accommodations. The five-room hotel is limited to a maximum of 10 guests and combines the luxurious feel of a boutique hotel with luxurious linens, stunning bathrooms (including claw-foot soaking tubs and open marble showers made with tall people in mind), and an abundance of considerate touches—right down to a clothing steamer. Rooms, awash in natural light overlook lush hotel grounds with seating areas, wrap-around porches, a charming courtyard garden, and one of Abita's famed artesian springs. The Ann O'Brien Gallery is a first-floor reception space and meeting spot named for Ann O'Brien (1951-2006), jewelry artist, art educator, founder of the Abita Springs Push Mow parade and other community events, who made her home in the area.
            The Tammany Trace runs through the front yard of the hotel and a limited number of complimentary bikes are available for guests. The Abita Brew Pub with expansive outdoor seating offers snacks like crisp fried artichoke hearts served with a ranch dipping sauce, Southwest eggrolls, blue crab claws sautéed in a New Orleans-style barbecue sauce finished with Abita amber beer and fresh rosemary.
            Artigue's Abita Market is spectacularly well stocked with house-made goods like andouille, boudin, head cheese, pork rillettes, chicken salad, and a riff on pimento cheese and the wine and beer section is an absolute revelation in such a small space. It is easy to enjoy a picnic on the porch.
            The Abita Mystery House just steps away, is a folk art space with thousands of found objects and curiosities to peruse.     
Eastern St. Tammany Parish
The Woodridge Bed & Breakfast
            The boughs of a centuries-old oak tree sweep gracefully to the ground casting shade and shadow across the front of the Woodridge Bed & Breakfast, an elegant Georgian Federalist-style building that served as a private school until Tim and Debbie Fotsch purchased it in 1995. The couple continued to work their corporate careers with Texaco as they began opening their new business in stages in 1999.
            "Then came the golden parachute," Tim said. "Texaco was bought by Chevron and we were well paid to retire early and do what we really wanted to do."
            Though the oak tree has been ever-present, working with designers from the famed Bellingrath Gardens of Theodore, Alabama, Tim planted additional gardens in honor of his late father. The gardens have matured to provide cooling shade as well as vibrant fragrance and color. A fountain bubbles soothingly from under the oak as chimes tinkle in the breeze. A fire pit beckons on chilly evenings. A short walk through the canopied gardens reveals a large swimming pool perfect for cooling off on a hot day, and a hot tub to relax and unwind in.
            It is obvious the Woodridge has become a choice destination for couples wishing to elope, so much so that an Elopement Package is offered with Tim serving as officiate.
            Over the years, Tim and Debbie have worked to outfit each of their five guest rooms (one king, two queen suites with additional queen daybeds, and one queen room) in period furniture, fine linens, and art. Rocking chairs and plush seating areas invite guests to relax on the upper-level veranda from which the rooms are accessed. Each space has its own air conditioning and heating system, a private entrance, private bath, flat screen television, and wireless internet. A great room doubles as a dining space with intimate table groupings that can serve up to 13 guests. Victorian china and furnishings are plentiful, setting the backdrop for fine southern hospitality.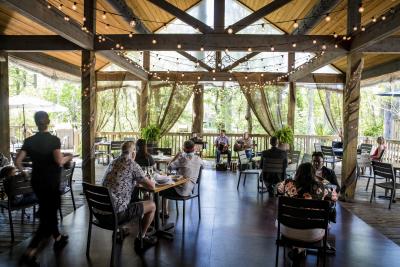 "I think it's really about Debbie's skills in the kitchen," Tim said. "It's the Swamp Monster Pie."
            The home is close to the Honey Island Swamp. In 1972 an 8mm film captured the likeness of a very tall, stooped, hairy creature stomping through the swamp, leading to a tourism surge of 250,000 people annually who came to Slidell/Pearl River in search of the "Swamp Monster."
            Debbie eschews the use of Swamp Monster flesh for her signature breakfast casserole, sticking instead to organic ingredients—sausage, potatoes, eggs and cheese—to make the delicious concoction, which she serves with sausage gravy, flaky home-made biscuits and fresh fruit. The breakfast menu changes daily but scratch-made dishes made with organic ingredients and served with freshly brewed local coffee remain a constant.
Nearby attractions include a number of swamp and nature tours as well as restaurants for casual and special occasions, including Palmettos on the Bayou, located about five miles away. The expansive covered back deck at Palmettos overlooks lush Bayou Bonfouca through fragrant cypress trees heavily draped in moss. It is the ideal setting for enjoying glasses of Champagne while indulging in delicacies such as rich lobster bisque, oysters bathed in spinach cream sauce then broiled, and fried artichoke hearts with remoulade sauce for dipping.