By: Jyl Benson | MyNewOrleans.com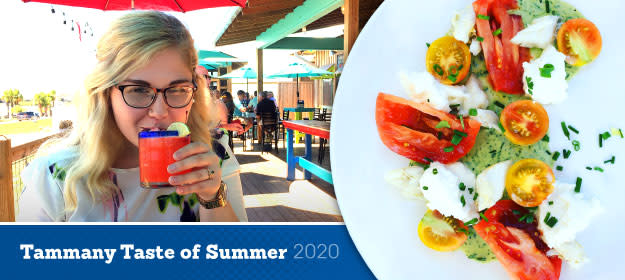 As our protracted quasi-quarantine state drags on and my own backyard, usually a resplendent, verdant sanctuary, has devolved into an overgrown, buggy bog, I've identified several large, centuries-old oak trees with ground sweeping boughs in public spaces in various small neighborhood parks around town. It is always 10 to 15 degrees cooler under such a tree, and I have taken to arranging intimate picnic luncheons or happy hours with small groups if friends under the trees' leafy canopies.
Under such circumstances, take-out entrées are simply too onerous to eat, balancing a cardboard container on your knees as you attempt to knife and fork your way through, but a sandwich – poor boy or otherwise – is just the thing. Those planning to join the socially distanced gathering can dust off their festival chairs and grab their own hand-held meal from their favorite sandwich shop or restaurant to bring along. A few sandwiches have been real standouts and we're sure to discover more as the temperature finally begins to drop and we gather more frequently.
Fresh and surprisingly light, grilled catfish poor boys from Frankie & Johnny's served dressed to order on Leidenheimer bread were just the thing with cold Abita Ambers when our group met at nearby Alma Peters Park.
Sloppy but oh-so-good breaded chicken Parmesan, saucy roast beef or meatball with mozzarella and red gravy poor boys, were among the choices from R & O's in Bucktown when we decided to meet on the nearby Lakefront, where no oaks are present but a breeze always is.
Numerous sandwiches, all of them built on fluffy pita baked in a wood-burning oven, are available at Tal's Hummus, our stop for fortifications when we gather at Wisner Dog Park a few blocks away. Filling options range from vegan falafel, a folded herb omelet, grilled chicken and eggs poached in fiery tomato shaksuka with feta cheese to kebab burgers.
Missing the divine garlic rib-eye Yakiniku poor boy you enjoy every year at Jazz Fest? Ajun Cajun has it on the everyday menu! The Sambal chicken poor boy is also a standout. Ajun Cajun is located just a few blocks from the Mississippi River levee where it turns into Jefferson Parish, a fine and breezy spot for an al fresco gathering.
Nearby Fresco Cafe on Maple Street is a good bet of you're heading to either Audubon Park or one of the many shady spots on the Tulane University campus. The menu includes many sandwiches, but those on lavash are particular standouts. The Chicken Portobello Roll includes plenty of succulent grilled chicken breast, Portobello mushrooms, tomatoes, mozzarella, spinach and feta cheese sautéed in a creamy house-made roasted red pepper sauce. The Spinach & Artichoke Roll is loaded with baby spinach, artichokes, sun-dried tomato and caramelized onion sautéed with garlic butter cream sauce and melty mozzarella cheese. All sandwiches come with sides of excellent garlic roasted baby new potatoes.
➺ Try This:
Ready for a change of scenery and a dining deal? Through September 30, St. Tammany Parish is celebrating a Taste of Summer with prix fixe and BOGO dining specials and a special Summer Savings Pass. Deals are offered at numerous places for overnight stays, restaurants and attractions. As participants redeem offers in their savings pass books they can enter to win a grand prize of a private wine dinner or a charter fishing excursion. Participating restaurants include Annadele's, Café Lynn, Dakota, Gallagher's Grill, Impastato Cellars, The Lakehouse, Restaurant Côté and many more. Attractions offering deals include Bayou Adventure, Brooks' Bike Shop rentals, Cajun Encounters Honey Island Swamp tours, Canoe and Trail Adventures, Culinary Kids, Escapology Covington, Gold Coast Skydivers, Louisiana Tours and Adventures and 30xNinety Theatre. Summer savings books can be acquired and discount overnight accommodations can be booked directly at TammanyTaste.com. Participating accommodations include Blue Heron B&B (25%), Southern Hotel or Abita Springs Hotel (10%), and Wingate by Wyndam in Slidell (35%).
Ajun Cajun, 8433 Oak St., 866-7077, AjunCajun.com
Frankie & Johnny's, 321 Arabella St., 243-1234, FrankieAndJohnnys.net
Fresco Cafe, 7625 Maple St., 862-6363, OrderFrescoCafe.com
R & O Restaurant, 216 Metairie-Hammond Highway, 831-1248, r-opizza.com
Tal's Hummus, 4800 Magazine St., 267-7357, OrdertalsOnline.com