FOR IMMEDIATE RELEASE: SEPT. 28, 2022
Nov. 3: Louisiana X Charlotte Restaurant Night Brings Flavors Of The Bayou State To The Queen City
28 powerhouse chefs partner across Charlotte for a night of collaborative dining experiences
CHARLOTTE, NC — For one night only — Thursday, Nov. 3 — top chefs from Louisiana's most delicious destinations are stepping into the kitchens of 14 Charlotte restaurants for an unforgettable evening of culinary collaborations at Louisiana X Charlotte Restaurant Night.
Diners are in for a special treat, or a little lagniappe as they say in the Bayou State, as Louisiana and Charlotte chefs collaborate on a special culinary experience inspired by the state's diverse regions. The Louisiana X Charlotte Restaurant Night will feature 28 chefs at 14 restaurants, each offering a one-of-a-kind experience available at various price points presented as a private ticketed dinner, a prix fixe menu or special featured dishes.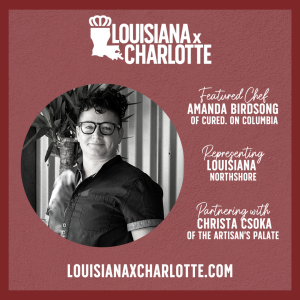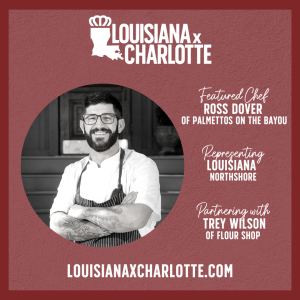 "Food is a way of life in Louisiana, and our culinary heritage and flavors are unlike anything else in the country," says Louisiana Travel Association Executive Vice President Laura Cating. "With multiple direct flights to Louisiana, we're excited to give Charlotte residents a sample of the flavors of Louisiana, inspiring them to make Louisiana their next travel destination."
Presented as a cooperative effort by the Louisiana Travel Association, multiple Louisiana destinations, the Louisiana Office of Tourism and the Louisiana Seafood Board as part of the Louisiana Culinary Trails tourism marketing campaign, Louisiana X Charlotte Restaurant Night will offer Charlotteans a taste of the Bayou State's vibrant culture.
Louisiana cuisine is not your typical Southern food. Influenced by French, Spanish, African, Sicilian, Caribbean, Irish, German and American Indian cultures, Louisiana's culinary roots run deep and have evolved into a wonderland full of rich, diverse and unique flavors with Gulf Coast seafood at its core.
Louisiana is the country's second largest seafood supplier, providing fresh seafood to restaurants and homes across the United States. From shrimp, crab, crawfish and oysters to finfish and alligator, Louisiana produces more than 850 million pounds of seafood each year.
The Louisiana X Charlotte Restaurant Night will take place at some of Charlotte's most popular restaurants including:
The Goodyear House: featuring chefs Chris Coleman & Ryan Trahan of Vestal representing Lafayette, Louisiana
Dish: featuring chefs Amanda Cranford & Madonna Broussard of Laura's II representing Lafayette, Louisiana
300 East: featuring chefs Ashley Boyd & Amanda Cusey, Louisiana Seafood Queen 2022 and executive chef of The Villa Harlequin representing Lake Charles, Louisiana
Church & Union: featuring chefs Jamie Lynch & Lyle Broussard of Barstool Sportsbook inside L'auberge Casino Resort representing Lake Charles, Louisiana
Flour Shop: featuring chefs Trey Wilson & Ross Dover of Palmettos on the Bayou representing Louisiana Northshore
The Artisan's Palate: featuring chefs Christa Csoka & Amanda Birdsong of Cured. On Columbia representing Louisiana Northshore
Haymaker Restaurant: featuring chefs William Dissen & Cory Bahr of Parish Restaurant and Standard Coffee Co. representing Monroe-West Monroe, Louisiana
Haberdish: featuring chefs J Rose Mushé & Celeste Gill of Chef Celeste Bistro representing Baton Rouge, Louisiana
Supperland: featuring chefs Christopher Rogienski & Jeremy Langlois of Latil's Landing at Houmas House representing Ascension Parish, Louisiana
El Toro Bruto: featuring chefs Hector González-Mora & KJ Townsend of Quizine Quarter representing Houma, Louisiana
Fin & Fino: featuring chefs Jon Cox & Ben Fidelak of Mariner's representing Natchitoches, Louisiana
Sweet Lew's BBQ: featuring chefs Lewis Donald and Johnnie Gale of Crawfish Town USA representing St. Martin Parish, Louisiana
Community Matters Cafe: featuring chefs Chayil Johnson & Tootie Morrison of Earnestly Tootie's Chef Services representing Shreveport-Bossier, Louisiana
Leah & Louise: featuring chef Greg Collier & Isaac Toups of Toups' Meatery representing New Orleans, Louisiana
The Culinary Trails program gives foodies from around the world a taste of the one-of-a-kind culinary scene in Louisiana and encourages them to plan a trip to the unique destinations in the state. Eleven destinations from the following Louisiana Culinary Trails regions are represented as part of the Louisiana X Charlotte Restaurant Night:
Some restaurants participating in the Louisiana X Charlotte Restaurant Night will require reservations or a pre-purchased ticket while others will be available with no required reservations. Many of the restaurants will still have their regular menu available. All diners need to know about the Nov. 3 special night, including participating chefs and restaurants, can be found at www.louisianaxcharlotte.com.
ABOUT LOUISIANA CULINARY TRAILS
Since 2008, the Louisiana Travel Association and its partners have promoted the unique culinary scene throughout the Bayou State with the Louisiana Culinary Trails campaign. In addition to providing foodies and travelers from around the globe with mouthwatering road trip ideas, it also takes the program on the road to major cities throughout the country to inspire travel throughout the state of Louisiana. With several direct flights from Charlotte to Louisiana cities and with the exciting food scene in Charlotte, the Queen City is an important market for Louisiana tourism. American Airlines offers direct daily flights to New Orleans, Baton Rouge, Lafayette and Shreveport. For more information about the Louisiana Culinary Trails program, visit www.louisianatravel.com/culinary and follow Louisiana Culinary Trails on Instagram, Facebook and Twitter.
###