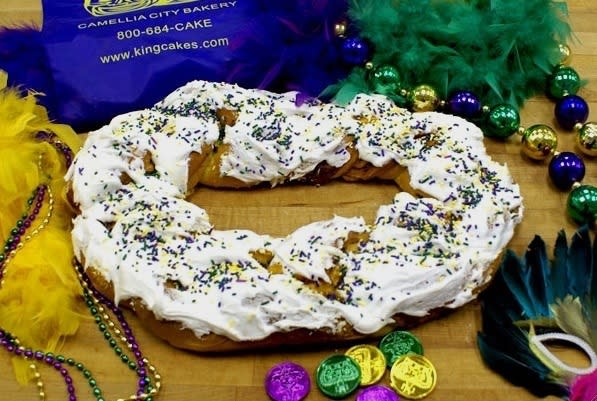 If Mardi Gras has a smell, it's got to be the seductive cinnamon-y aroma of freshly-baked king cake. Topped with icing and sprinkles of purple, green and gold, the Mardi Gras colors, its arrival in bakeries and supermarkets is cause for celebration. Over the years, variations have come to include praline icing and fruit and cream fillings. Inside, you'll find a plastic or bisque baby hidden in the cake. Tradition holds that the person who gets the baby brings a king cake to the next party.
The original Randazzo family recipe created back in 1965 is one of the best on the Northshore, and can be found at Randazzo's Camellia City Bakery in Slidell. They bake tens of thousands of king cakes each season, selling to locals who walk into their bakery and aficionados all over the country. Order a king cake for special delivery right to your door at Kingcakes.com. Inside you'll find an Explore the Northshore Visitor Guide to help you plan your next trip to St. Tammany.
Written and published by St. Tammany Parish Tourist and Convention Commission staff.