By Alli Talley  | The Traveling Newlyweds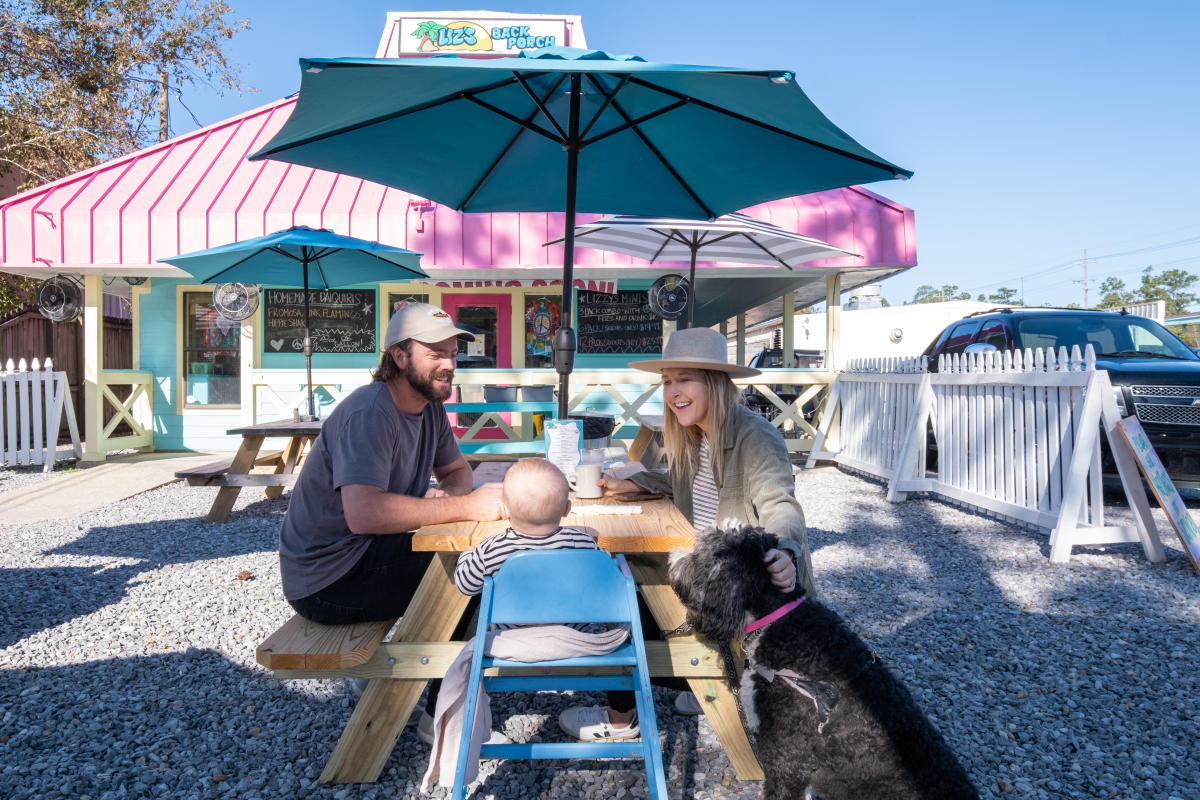 When planning our first big road trip with the whole family, we were hesitant to go anywhere out of our comfort zone. We knew a baby and a newborn would be enough of a challenge, so adding in a wildcard destination seemed a little too risky. With that in mind, Louisiana Northshore was at the top of our list of places to head back to. Nestled along the banks of Lake Pontchartrain just 40 minutes north of New Orleans, the Northshore is a perfect destination to explore (or relax) with the whole family! While we know that Covid-19 is still very much a travel deterrent, here we're sharing our favorite stay, eats, and activities from our second visit to the Northshore. And regardless of when you're comfortable traveling, whether it be tomorrow or in 2022, the Louisiana Northshore will be ready for you!
Do
The tricky part about things to do on the Northshore is that many of the activities might make you want to move there. The sense of community and belonging is strong, even for visitors like us. From the energy of the concerts at the Dew Drop to the kindness of people you'll meet while biking the Tammany Trace, you'll feel like a local in no time. 
Even in the midst of a global pandemic, some highlights from our 2020 trip come back to the things we did with other people. On our first night in town, we went to the "Chillin' at the River Concert" in Bogue Falaya Park, and watched people dancing the night away like Covid-19 didn't even exist (in their socially distant circles). Another morning we biked the Tammany Trace, with Jude in a carriage, and chatted with several walkers/bikers as they obsessed over our chunky baby. I guess complimenting your baby will make anybody love a community…
A family favorite will definitely be the mule-drawn carriage tour of Covington. Royal Carriages will pull your family around Covington, sharing the rich history along with some of their recommendations for dinner, drinks, or coffee. It was a great way to see the town!
No trip is complete without doing a little shopping. Across their various communities, the Northshore has all the shopping you need. We love downtown Mandeville for the small businesses where we can find perfect souvenirs. Our favorites are Tallulah's Vintage Market (where we scored some amazing holiday decor), Cameo Boutique (for Alli), The Wild Osprey, and Mae Antiques and Collectibles (for some exciting antiquing). 
Lastly, if this is your first trip, make sure to spend time strolling the parks. The trees here are jaw-dropping, so make it a priority. Our favorite spots for strolling among the live oak trees are Lakeshore Drive in Mandeville (on the lake), Bogue Falaya Park, and Fontainebleau State Park. 
Stay
With both coastal communities and lush towns situated a few miles from the water, Northshore has a wide range of options for accommodations. On our first visit to the area (in 2019), we stayed at About Trace B&B that's located in downtown Mandeville. This pet-friendly B&B was walking distance from the banks of Lake Pontchartrain, along with plenty of restaurants and shops. We love downtown Mandeville!
During our 2020 visit, we stayed at the Abita Springs Hotel, centrally located in the charming community of Abita Springs. We loved the cute pink/peach exterior of the small inn, and were obsessed with the layout and design inside. Between the rocking chair on the porch happy hours (while Jude napped) and the big cozy bed, we struggled with ever wanting to leave. 
Next time we plan on staying in the overwater cabins on Lake Pontchartrain in Fontainebleau State Park. Sally may get to stay in her first overwater bungalow, as some of them have recently been designated pet-friendly! Who knew you could find an overwater cabin in Louisiana!?!
Eat
We definitely have some favorite spots to eat on the Northshore, but have found some new gems on this trip! For breakfast, we loved Liz's Back Porch! With tasty (and hearty) plates, colorful decor, and plenty of space between tables, this is a must-visit. Plus, you'll probably meet Liz while you're there. She's a hoot! 
Abita Springs Cafe, just a stone's-throw from our Inn, is another go-to for breakfast (or lunch). Go for the tasty Abita Roasting Company coffee, and then come back daily for the beignet bites or massive omelets! They have a spacious outdoor patio and even a mascot that lives in a chicken coop out back, Omelet the chicken - Jude was obsessed! 
While meandering downtown Mandeville, we stumbled upon Girod Street Market & Deli. The market is stocked with seasonal produce, fresh eggs (that were so pretty), and delicious sandwiches. We took a couple to-go and ate them among the live oaks on Lake Shore Drive. 
A new restaurant since our visit last year, The Anchor is an open-air, family-friendly restaurant that's right on the water in Madisonville - they even have an on-premise dock with slips if you come by boat! Between the Fried Oyster Poboy, boat watching, and the rockin' live music, we didn't want to leave (but Jude had to nap). 
Another new spot (to us) that we dined at in Covington was PePe's Sonoran Cuisine. The recently crowned "King of Louisiana Seafood", Chef Robert Vasquez, was there to wow us with his authentic Sonoran cuisine fused with Louisiana flair. I (Bobby) had his crown-winning dish, a red snapper, crawfish sofrito that had flavors I'd drive all the way back for. The margaritas helped us relax despite the busy baby interrupting our otherwise romantic date night :) 
If you're seeking out good beer, look no further than Old Rail Brewing Company or Abita Brewery. Old Rail has a variety of their own hand-crafted beers on tap, with the option to do tastings if you want to try a few. Our favorites were the Toil and Trouble and the Cow Catcher Chocolate Milk Stout! After your brews at Old Rail, be sure to make time for another at Abita Brewery. What started as a small microbrewery is now the largest brewery in Louisiana! While the typically have tours available and a spacious tap room, they temporarily only have their patio open due to Covid. Still worth the visit! Be sure to grab a case of "The Boot", a crisp, light beer that they only sell in Louisiana. 
We stumbled upon St. Tammany Parish, also known as Louisiana's Northshore, on a road trip in 2019 and quickly new that it was special. The picturesque towns each have their own character, there are plenty of outdoor activities for all, and the culinary scene is bustling. Covid-19 may keep you from this gem for a few more months, but when you feel safe, it's a perfect place to satisfy your travel cravings. Whether you're looking for a quick weekender or a family-friendly getaway, Louisiana Northshore is ready for you!