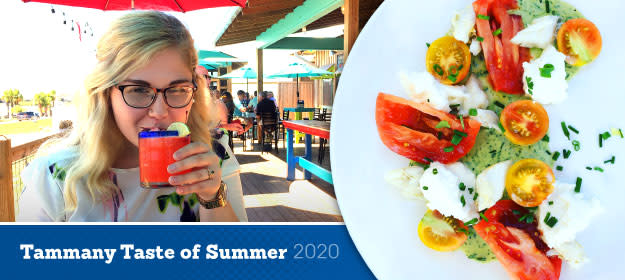 MANDEVILLE, LA – Life's a feast on the Northshore, so we're celebrating with Tammany Taste of Summer and a special Summer Savings Pass sponsored by the St. Tammany Parish Tourist Commission. Locals and visitors can save on overnight stays, restaurants, and attractions August 1- September 30 by accessing a free Tammany Taste of Summer Savings Pass at www.TammanyTaste.com. As they redeem offers, pass holders can enter to win a grand prize of a private wine dinner for four or a charter fishing excursion.
"The Tammany Taste of Summer program is expanding this year to incorporate more tourism-related small businesses, such as restaurants offering casual fare and attractions," says Donna O'Daniels, President and CEO of the St. Tammany Parish Tourist Commission. "We thought it important to extend the benefits of this free campaign and bolster as many tourism-related businesses as possible. We're also investing more resources and continuing the promotion through September 30 to have more positive impact."
More participants are being added daily to the Summer Savings Pass on TammanyTaste.com. Browse discounted prix fixe menus from Annadele's, Café Lynn, Ceasar's Ristorante, Dakota, Gallagher's (Grill, 527 and Front Street), Impastato Cellars, and Restaurant Côté. Samurai Dragon has BOGO hibachi dinners and The English Tea Room a Buy-One-Get-One Half Off Windsor High Tea. NOLA Southern Grill and Pyre Provisions are offering BOGO appetizers; Giddy Up Folsom and Zea Rotisserie & Bar have discounts on family meals; and Abita Brew Pub, Liz's Where Y'at Diner, Bosco's, Pyre, Abita Roasting Company, T-Rivers Bar and Grill and Felix's Restaurant and Oyster Bar are offering specialty drink deals. Dessert discounts can be found from S&H Good Eats Cafe and Bayou Boil 'n Geaux.
Northshore attractions offering great deals include Bayou Adventure, Brooks' Bike Shop rentals, Cajun Encounters Honey Island Swamp tours, Canoe and Trail Adventures, Culinary Kids, Escapology Covington, Gold Coast Skydivers, Louisiana Tours and Adventures, and 30 by Ninety Theatre.
Northshore hoteliers and bed and breakfast owners are offering cool daily rates for Tammany Taste of Summer visitors. Book directly from the  www.TammanyTaste.com website and receive room rates including 25% off Blue Heron B&B, 10% off the Southern Hotel or Abita Springs Hotel, and 35% off Wingate by Wyndham in Slidell, just to name a few.
To access Tammany Taste of Summer Savings Pass details or to book a room, visit  www.TammanyTaste.com, brought to you by the St. Tammany Parish Tourist Commission.
About the St. Tammany Parish Tourist Commission
The St. Tammany Parish Tourist Commission works with its tourism partners to promote the Northshore community as an attractive travel destination and enhance St. Tammany Parish as a dynamic place to live and work. In 2019, visitors to St. Tammany Parish generated more than $771 million in spending (the 4th largest tourist economy in the state), which produced $78.3 million in state and local taxes. Visitor spending in St. Tammany Parish supported 10,030 direct jobs. If it were not for the state and local taxes paid by tourists visiting St. Tammany Parish, each household would pay $851 MORE in taxes (UNO Hospitality Research Center).
# # #