BY ALLI TALLEY  | THE TRAVELING NEWLYWEDS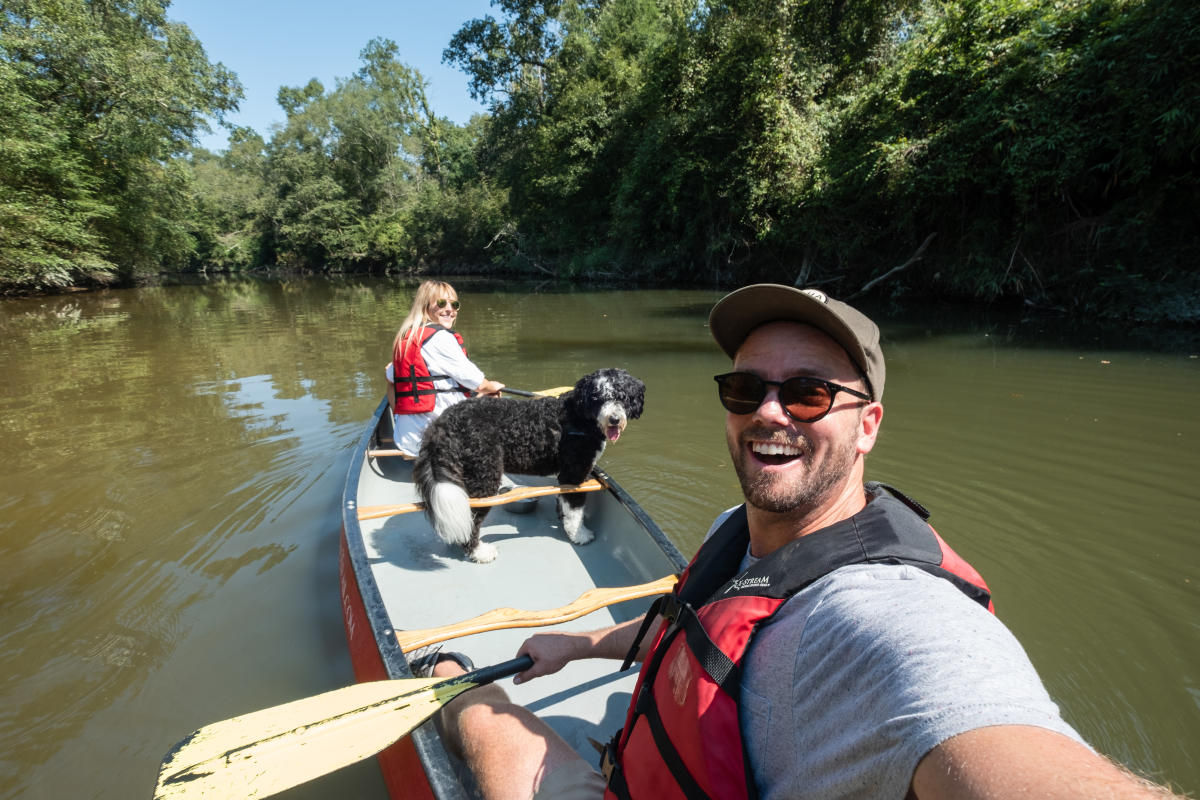 The highlight of 2020 for Sally the bernedoodle must have been hoping in the car for a month-long road trip. She knows that a road trip means countless cattle to bark at along the way, tons of really yummy meals, and lots of snuggles sleeping between mom and dad in bed. While Sally is happy literally always, she is happiest when she's outside and active. With two trips to Louisiana's Northshore under her collar, she's become an expert on what there is to do and see for all her canine peers. 
Where to Rest Your Paws (Pet-Friendly Accommodations) 
When it comes to where to stay, it depends on what you (the parents) prefer. If you want to experience the Northshore with your pup, Sally was a big fan of About Trace B&B. It's situated in the heart of Old Mandeville, just a block from downtown shopping and the Tammany Trace. Other options that are dog-friendly include Splendor Farms B&B, the Best Western Covington, or the Residence Inn Covington. If you'd like to stay in Fontainebleau State Park, you have the option of camping or staying in a pet-free cabin… that's where you'll find us next time! 
If you'd like a little family time minus the pup, consider dropping him/her at PetSuites Northshore. We dropped Sally at PetSuites for a few days on this most recent trip, and it absolutely was the highlight of her road trip. Not only did she get to run around and play with dogs (and humans) all day, but she had her own suite with a comfy bed and Animal Planet playing on the TV all night. How spoiling! 
Sniffing, Running, and Going Potty (Things to Do)
Sally's favorite part about the Northshore is that there is SO much for her to do. While we struggle some days to "get her wiggles" out at home, it's easy to have her putting herself to bed right when we get back to our hotel after a day here. Here are a few of her favorite ways to spend her day: 
Making Friends at the Dog Parks - Louisiana Northshore boasts fenced-in, off-leash play areas with pools, water stations, sand and grass play areas. There are parks in Mandeville, Slidell, and Covington, and your pup is bound to make some friends. Sally could have played at Pelican Bark Park ALL DAY.

Canoeing with your parents - Canoeing is always a good idea, especially in the Louisiana wetlands! Rent a canoe (or kayak) from Canoe and Trail, and leisurely float along the river… it's peaceful and relaxing, even with all of the things for your pup to see and sniff! We took a break at Bogue Falaya Park to let Sally run free! 

Stroll or Hike Through a Park - Sally recommends walking along the water on Lakeshore Drive in Mandeville, or exploring Fontainebleau State Park. Exercise for the whole family! 

Farmer's Market - If you happen to be in town on a weekend, there are a variety of local farmers' markets that will be full of artists, designers, farmers, and food from all over the Northshore. You can find pet-friendly soaps, apparel, and artwork if you're in need. Not to mention all of the dogs you'll meet walking around. We've been in town for both the Mandeville Trailhead Community Market and the Abita Springs Art & Farmers Market… both were a hit for Sally!
Licks and Bites (Pet-Friendly Restaurants)
With everything that you'll be doing on the Northshore with your pup, you'll probably be ready for some good food. Fortunately there are plenty of dog-friendly options!
Abita Springs - If you're staying in Abita Springs, Abita Brew Pub or Abita Brewery are a perfect spot to grab a beer, while Abita Springs Cafe is great for coffee and breakfast after a morning walk. 

Mandeville - After walking and shopping around Mandeville, we'd recommend the outdoor patio at Old Rail Brewing Company or The Barley Oak. Both boast tasty beers, good food, and plenty of space for the pups. The Barley Oak has waterfront views, too! 

Covington - While there are probably many more restaurants that currently have outdoor dining (due to Covid), our current favorites in Covington is The Chimes. Sitting the banks of Bogue Falaya, we ate here after canoeing with Sally. She loved the spacious patio and was delighted to have her fair share of hush puppies. 
All in all, Louisiana Northshore is a fantastic destination for those traveling with their dogs. It's been "Sally approved" since our first visit in 2019, and she still has so much more to explore!