By Shan Bailey | NOLAWeekend.com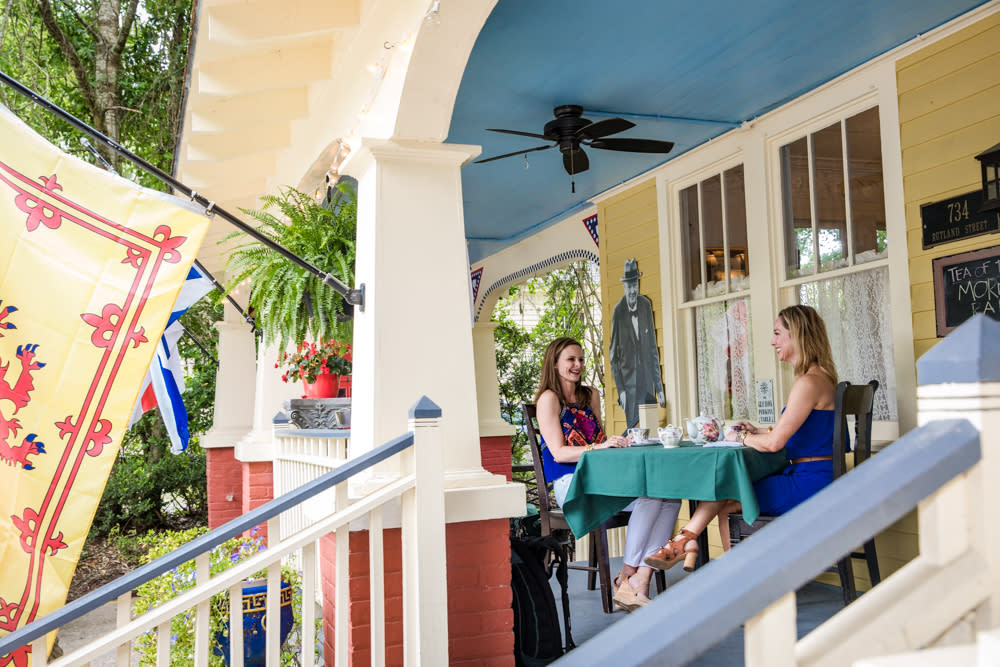 After last year's at-home celebrations, brunches, dinners and local events return to help families celebrate Mother's Day on Sunday, May 9.
One of the biggest dining days of the year, dining rooms are open and flourishing. There are also a few ways to spend quality time, from afternoon tea to Champagne strolling on Magazine Street.
We rounded up a list of Mother's Day restaurant offerings and events to help let Mom know she's appreciated on her big day.
Tommy's Cuisine offers special Mother's Day hours
Warehouse District restaurant Tommy's Cuisine hopes to add another spot for diners looking for last-minute reservations. Tommy's Cuisine will open for special Mother's Day hours to accommodate the Sunday reservation surge from 11 a.m. to 9 p.m.
Besides the earlier opening time, you can treat Mom to something that sparkles: half-price bottles of Veuve Cliquot Yellow Label to pair with your meal ($50 dollars a bottle). While Tommy's isn't typically thought of as a Sunday brunch spot, they're adjusting for the special day.
Spend quality time at the NOMA's Besthoff Scultpture Garden
Spring is blooming in New Orleans, which makes it the perfect time for some quality time strolling in the garden with Mom. In honor of caregivers of all kinds, NOMA will offer free admission to its Besthoff Sculpture Garden on Mother's Day from 10 a.m. to 6 p.m.
Advance tickets are not required but highly recommended. Visitors must follow social distancing guidelines in addition to our garden guidelines. For a full list of these guidelines, click here.
Mother's Day brunch and dinner specials at Toups' Meatery
Let Mom take a break from the kitchen, and treat her to some contemporary Cajun cuisine from Mid-City favorite Toups' Meatery. Chef Isaac Toups' flagship restaurant will feature Mother's Day brunch and dinner specials in addition to the regular a la carte menus.
Brunch specials feature Louisiana crawfish pies and fried Gulf oysters, while dinner specials include Louisiana Wagyu NY strip. Isaac's famed Meatery Board and fan-favorite seared venison loin will also be available. Oh, and the bottomless mimosas will be flowing.
Sunday brunch hours are 10 a.m. to 3 p.m., and dinner hours are daily from 5 p.m. to 10 p.m. Reservations are strongly encouraged and can be made on OpenTable.
Mother's Day Tea at the English Tea Room
Just in time for Mother's Day, the English Tea Room in Covington hosts a special High Tea from May 5 to May 12.
The Mother's Day High Tea service includes hors d'oeuvres, a selection of assorted tea sandwiches, fresh-baked scones, chocolate-covered strawberries, and macarons, among other food items. There's also an unlimited selection of Mother's Day-themed tea blends, iced or hot.
In honor of the holiday, mothers will receive a complimentary long-stemmed rose. Reservations are highly recommended for tea times between 10 a.m. and 5 p.m. each day. Admission is $35 per person.
Turtle Parade at Brennan's Restaurant
As a Mother's Day weekend tradition, Brennan's Krewe of Turtles usually takes a stroll around the French Quarter in decorated wagons.
Brennan's says its tradition will return a little differently this year due to COVID restrictions. The restaurant will display those turtle floats in Brennan's courtyard instead on Saturday, May 8.  The restaurant will also serve brunch with socially-distant seatings from 9 a.m. to 2 p.m., host a special Tipsy Turtle Happy Hour from 9 a.m. to 2 p.m. and offer a special "Bubbles at Brennan's" happy hour from 2 p.m. to 6 p.m.
Stroll with Mom on Magazine Street
The Champagne Stroll returns to Magazine Street just in time for Mother's Day weekend. The Magazine Street Merchants Association announced that this year's event will expand to three days to allow for social distancing from Friday, May 7 to Sunday, May 9.
During the event, businesses along Magazine Street may offer sales, specials, activities, extended hours and festive bubbly. Organizers say all merchants will be following city guidelines and ask visitors to do the same – indoor masks and social distancing will ensure safe strolling.
Bywater American Bistro hosts Mother's Day brunch
James Beard-winning chef Nina Compton will hosts a Mother's Day brunch at her acclaimed Bywater American Bistro from 10:30 a.m. to 2:30 p.m. featuring à la carte decadent delights and creative cocktails. Some menu options include steak and eggs, soft truffle scramble, crawfish pot pie, semolina gnocchi and French toast. Reservations are highly encouraged.
Brunch with a view at Jack Rose
Treat Mom to brunch with a view at Jack Rose and Hot Tin, the lively restaurant and rooftop bar located inside the Garden District's Pontchartrain Hotel.
In addition to the signature a la carte brunch, Jack Rose will feature special Mother's Day brunch additions. Of course, Chef Brian Landry's popular chicken and waffles with pepper jelly and crispy shrimp and grits will be available.
Mother's Day Brunch will take place from 11 a.m. to 2 p.m. Reservations can be made through OpenTable or call the restaurant.
Get Crafty with Mom
This Mother's Day, make some memories with Mom while making keepsakes for your home. The St. Tammany Parish Tourist & Convention Commission lists several spots great for DIY arts and crafts on the North Shore.
Painting with a Twist in Mandeville has three fun activities to create a memorable Mother's Day, including a "Snuggle Bug Mommy and Me" session for moms and kids ages 6 and up from 10 a.m. to noon and two Mother's Day painting parties from 2 p.m. to 4 p.m. for moms and kids ages 14 and older. Register for any or all of the Mother's Day sessions at PaintingwithaTwist.com.
Hammer & Stain Covington has a Mother's Day special for the DIY crafter: make one new interchangeable door hanger and get six free. Hammer and Stain's workshop, 11 a.m. to 2 p.m., provides step-by-step instructions and all supplies needed for you to take home a complete project. Register for the class at HammerandStainCovington.com.
Brunch with Mom at these North Shore Restaurants
The St. Tammany Parish Tourist & Convention Commission features these North Shore restaurants serving Mother's Day brunch:
Patton's Catering at Salmen-Fritchie House, 127 Cleveland Ave., Slidell – (985) 645-3600
Mother's Day Brunch, May 9, 10 a.m. – 3 p.m. Reservation required.
Pardo's – An American Bistro, 5280 Hwy. 22, Mandeville – (985) 893-3603
Mother's Day Brunch, May 9, 11 a.m. – 3 p.m.
Forks & Corks, 141 Terra Bella Blvd., Covington – (985) 273-3663
Mother's Day Brunch, May 9, 11 a.m. – 3 p.m. Reservation recommended.
Mother's Day boozy brunch at Compère Lapin
Celebrate Mother's Day with a brunch at chef Nina Compton's flagship restaurant, Compère Lapin at Old No. 77 Hotel. Menu items like the Hot Fire Chicken with biscuits and pickles are featured on the à la carte Sunday Brunch menu, along with other signature items. In addition to the regular brunch menu, diners can indulge in a selection of Mother's Day specials and enjoy boozy brunch cocktails. The restaurant serves brunch from 10:30 a.m. to 2 p.m. Reservations are highly encouraged.
Treat mom to a spa day
Moms are the glue that holds a family together, but even the best mothers need some downtime. Celebrate Mom with a relaxing spa day.
Thanks to FOX 8, you can enter to win a mother and daughter facial at The Woodhouse Day Spa.