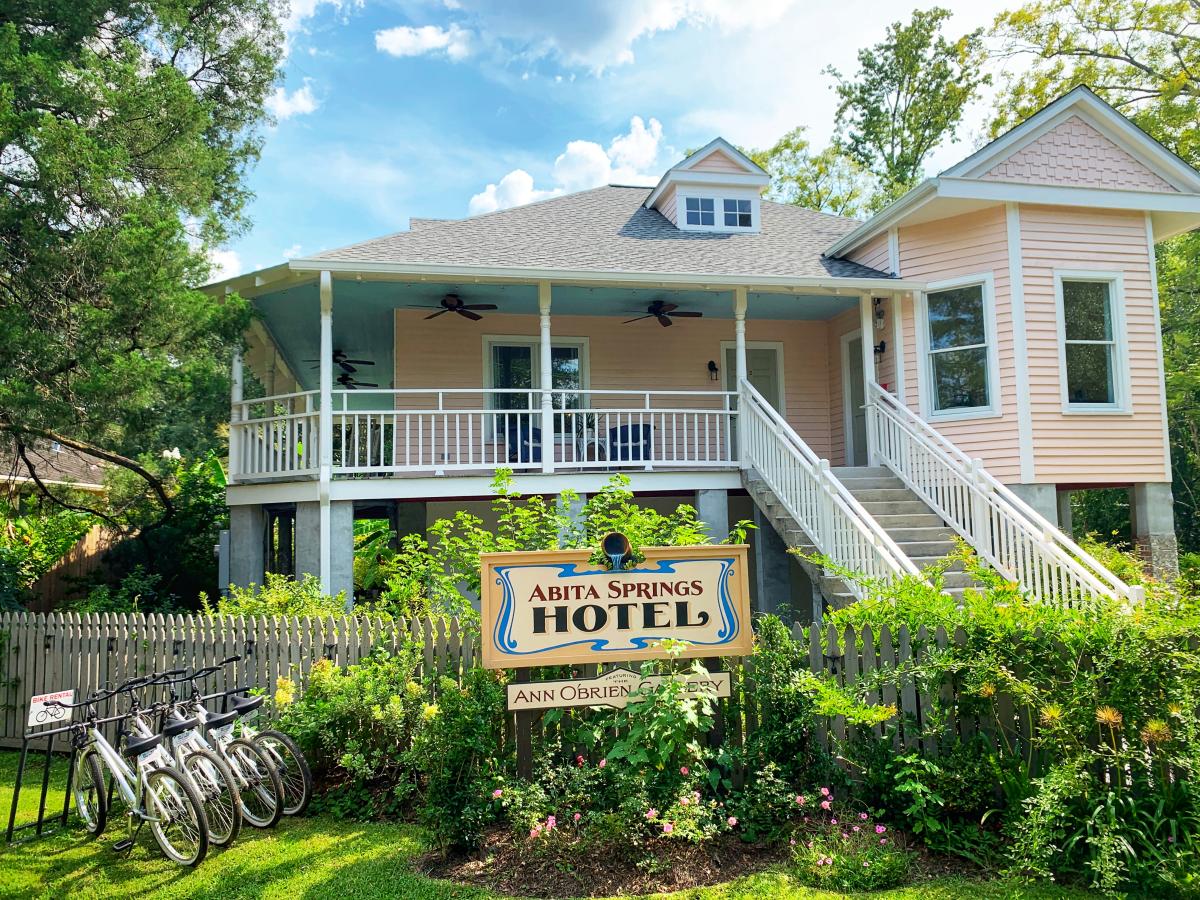 By: Jyl Benson | Edge of the Lake, July/August 2020
Be our guest in St. Tammany Parish, where you can restore your mind, find your inner peace, and stay awhile. Read the article below from EDGE of the Lake magazine. You'll explore great places for a weekend getaway and a few things to do, too, on Louisiana's Northshore, St. Tammany Parish.
Back in the day, St. Tammany Parish was settled by Native American tribes seeking the natural beauty of the area and its restorative properties. Today, many still flock to our towns to enjoy those same luxuries.
In downtown Covington, stay at the Camellia House Bed and Breakfast. The ground's lavish gardens are the perfect place to kick back after exploring the antique shops, clothing boutiques, art galleries, and local eateries in Covington's historic district. Camellia House is more than a piece of Covington's history. It's a piece of the Chambless family history, too. Owned by husband and wife, Don and Linda Chambless, Camellia House is where they raised their daughter, Sarah, who now owns Blue Heron Bed and Breakfast in Mandeville with her husband, Steven. Blue Heron Bed and Breakfast , which is located two blocks from the Tammany Trace, welcomes guests to their home away from home. With therapeutic grade essential oils diffusing in each suite, you're sure to unwind, relax, and fell at home in this cozy place. The Blue Heron B&B isn't the only great bed and breakfast to call Mandeville home. Located just a short walk from the Mandeville lakefront, de la Bleau B&B has five guest suites, outdoor gathering space, and offers an extensive breakfast selection. Each suite has its own view of Lake Pontchartrain making the porch the perfect place to enjoy your morning coffee.
Speaking of porches, enjoy a stay at the Abita Springs Hotel. This renovated 1890s home has a large wraparound porch, one of Abita Spring's famed artesian springs, and is home to the Ann O'Brien Gallery on its first floor. Abita Springs Hotel also offer guests complimentary bikes to explore the town of Abita Springs and bike the Tammany Trace, a 31-mile rail-to-trail conversion that connects five St. Tammany Parish communities.
On the other side of St. Tammany Parish, you'll find Woodridge Bed and Breakfast of Louisiana located in Pearl River. Known for hosting couples looking to get married, The Woodridge offers a room package that includes a wedding ceremony officiated by the owner, Tim Fotsch. Whether you get married while you're in town or are celebrating being married for years, The Woodridge B&B is a great place to spend time with the one you love.