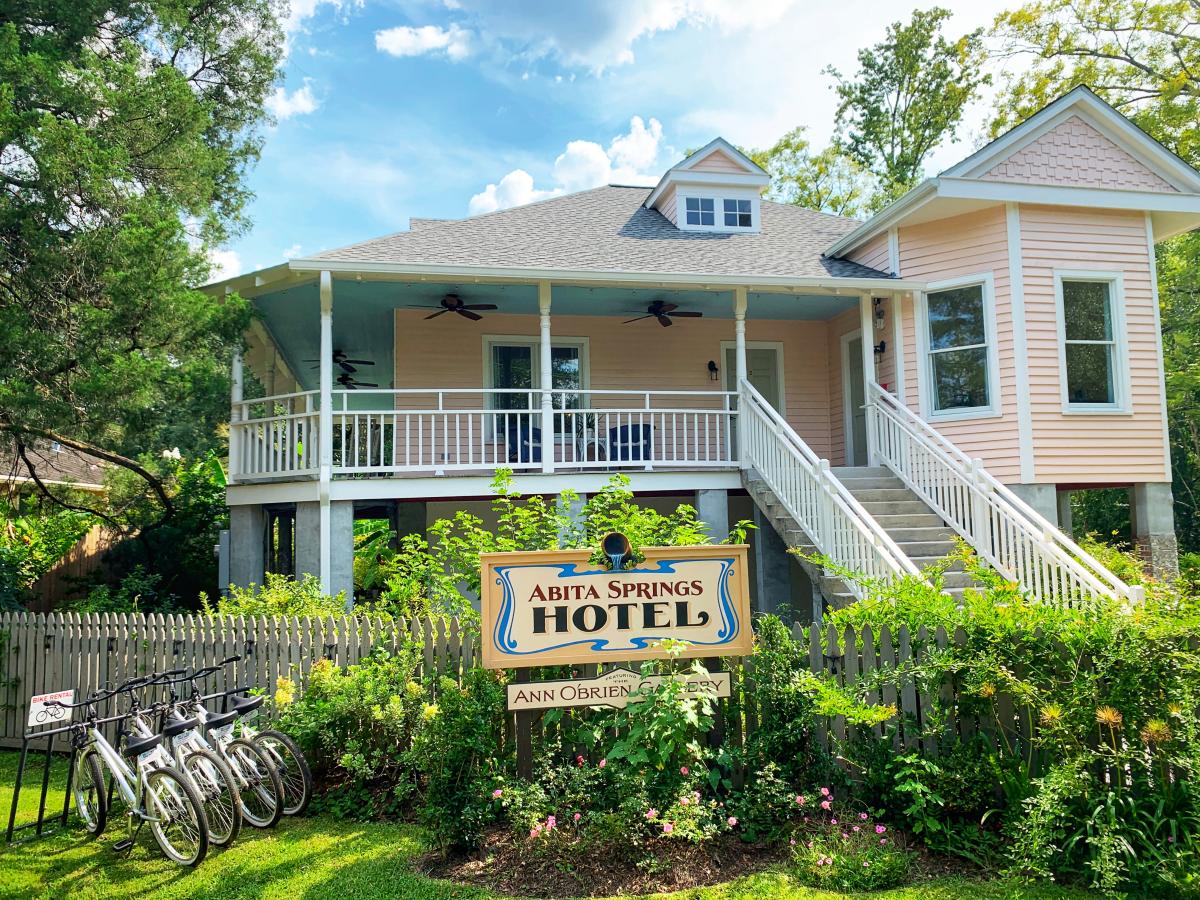 If there's one thing that the last few months have taught us, it's that we should start spending more time outdoors. With office jobs, tv, and tablets, we've been spending more time inside than ever before, but there's no substitute for sunshine and fresh air. If you're looking for a summer vacation that gets you back to the great outdoors, there's no better place to visit than Louisiana Northshore.
St. Tammany Parish is just 40 minutes from New Orleans, but a world away. There's so much to do, from swamp tours to brewery tours and bike trails to miles of waterways to paddle. Get ready to book a room in a cozy Bed & Breakfast and bring your appetite, because we're going on a road trip for an unforgettable weekend on Louisiana Northshore!
Friday
11:30 AM: Enjoy a light lunch at the English Tea Room and Eatery. It's full of teas, scone mix, jams, and other goodies you may want to bring back home to share with family and friends.
1:00 PM: Hit the water! Explore the bayous like you've never seen them before with kayak and canoe rentals from Canoe and Trail Adventures or Bayou Adventure. There are guided and self-guided tours available.
3:00 PM: Check into the historic Abita Springs Hotel or the award-winning Blue Heron Bed & Breakfast in Old Mandeville.
6:00 PM: Grab dinner on the patio at the Abita Brew Pub, the original location of the Abita Brewery! Afterward, peruse the gift shop. 
7:30 PM: Don't forget dessert! Try a scoop of the homemade Creole Cream Cheese or Butter Pecan at Hoodoo Ice Cream.
Saturday
8:00 AM: Sit down for breakfast at Liz's Where Y'at Diner. Try the Nawlins Benedict with fried green tomatoes, crab meat, and asparagus—or if you have a sweet tooth, you can't go wrong with the Banana Foster French Toast!
10:00 AM: Pack a water bottle and head to the Tammany Trace. The rails-to-trails Hall of Fame path is the perfect place for a leisurely stroll or bike ride, and the scenery can't be beat! Parks, restaurants, playgrounds, and more are all along the way. Bike rentals are available at Brooks' Bike Shop in Covington and Mandeville.
11:00 AM: Ride to Fontainebleau State Park, a former sugar plantation where you can still see the ruins of an 1829 sugar mill. Explore nature trails or spend some time relaxing on the sandy beach.
1:30 PM: Stop for a Louisiana lunch right along the Tammany Trace, across from the Mandeville Trailhead Market. 
3:00 PM: Take a tasting tour at the Abita Brewery, Louisiana's oldest and largest craft brewery.  
5:00 PM: Catch the sunset over Lake Pontchartrain with a drink from Barley Oak: Old World Draught Haus. With over 150 beers to try, you're sure to find something you love!
7:00 PM: An active day makes you hungry, so head toHambone for a mouthwatering meal of Pot Roast with Sour Cream & Onion Potatoes, Cayenne Glazed Carrots and Pan Gravy, or Oysters Marcí, made with caramelized fennel, bacon, mushrooms, Herbsaint and pecan smoke.
Sunday
9:00 AM: You don't want to leave Louisiana without eating some beignets, so start the day at the famous Cafe Du Monde—and don't forget a cup of the delicious chicory coffee. 
10:30 AM: Have a late check out. (How did the weekend go by so quickly!?)
11:00 AM: There's no better place for souvenir shopping than the Abita Springs Art & Farmer's Market. You'll find everything from local honey and boudin to wall art and beauty products—plus there's live music.
1:00 PM: Lunch time at Restaurant Coté in Olde Towne Slidell. All their ingredients come from within a 60-mile radius, and much of the fresh produce is grown in their own garden. Try the Grilled Fresh Fish of the day!
3:00 PM: On your way out of town, stop for one last bit of fun. The Honey Island Swamp Tours are not only breathtakingly beautiful, but they also leave you with a wealth of knowledge about the history of the area—and your chance to meet alligators in the wild.
Excited about the Louisiana Northshore? You can receive a free, award-winning Visitor's Guide here to start planning your adventure!