By Amber Gibson | Fodor's Travel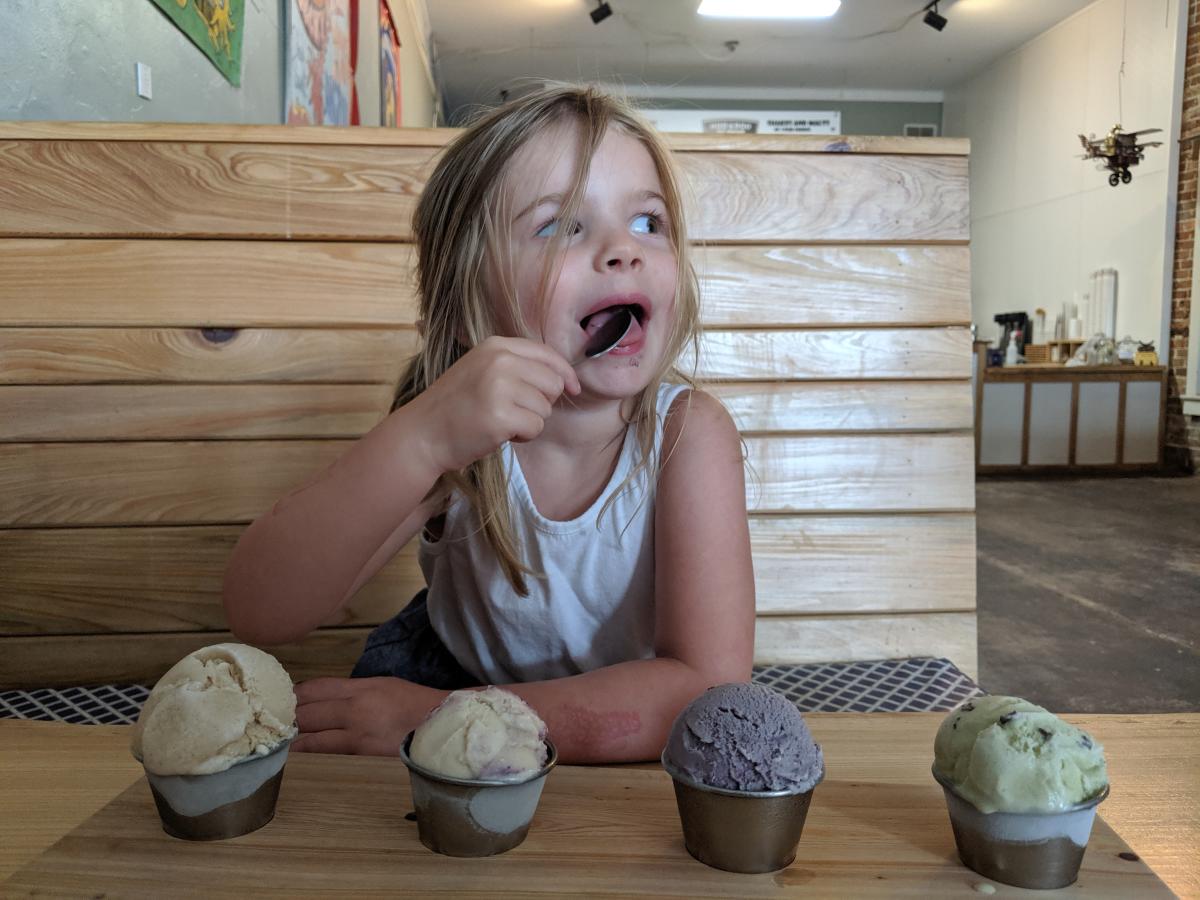 Would you try sea urchin ice cream?
Ice cream is an American summer staple, but would you swap mint chocolate chip for pear and blue cheese ice cream?  From vegetables to booze to miso, it seems you can churn just about anything into delicious ice cream with a little imagination. We've found some of the most adventurous flavors across the country that are worth seeking out and standing in long lines for.
1 OF 16
Beet Tarragon Gelato
WHERE: Los Angeles, California
You may think the deep magenta gelato at Uli's Gelato is made from berries, but the flavor comes from earthy roasted beets with a touch of tongue-tingling tarragon. This unexpected flavor was one of Uli Nasibova's first experiments with savory ingredients, and she was attracted to beets for their sweetness and beautiful color. Tarragon is one of her favorite herbs, and the licorice flavor reminds her of her favorite carbonated soft drink, "Tarkhun," that she enjoyed as a kid growing up in Azerbaijan. Try this flavor on its own or pair it with sea salt chocolate.
2 OF 16
Paw Paw Vinegar Ice Cream
WHERE: St. Louis, Missouri
At Bulrush in St. Louis, chef Rob Connoley celebrates 19th-century Ozark cuisine, drawing on the culinary traditions of immigrants, settlers, enslaved people, and Indigenous peoples. Connoley forages for many of his ingredients, including black walnuts, paw paws, shiso, and hickory nuts. He makes an array of vinegar from kitchen scraps, ensuring that very little at Bulrush goes to waste. For summer, he's making a refreshing paw paw vinegar ice cream served with rutabaga cake and acorn miso oat crunch.
3 OF 16
Sea Urchin Ice Cream
WHERE: Chicago, Illinois
After a 17-course omakase menu at Sushi Suite 202 at the Hotel Lincoln in Chicago, guests are left with a very memorable final bite by executive chef Jordan Dominguez: a sea urchin ice cream scoop sprinkled with seasoned puffed rice and toasted seaweed. Sea urchin is known for its buttery, custardy sweetness, so ice cream is a natural if not novel conduit to enjoy the spiny echinoderms. Dominguez cooks sea urchin with figs and mint, then blends and strains the mixture before folding it into a bold ice cream.
4 OF 16
Pear and Blue Cheese Ice Cream
WHERE: Portland, Oregon
Pears and blue cheese are a winning combination on a salad but in ice cream? Salt & Straw has always pushed the boundaries with quirky ingredients—from insects to pig's blood—finding their way into ice cream flavors over the year. This pear and blue cheese ice cream was served at their first shop on Alberta Street and is still a menu staple today. The Portland-based ice cream maker highlights one of Oregon's best cheeses, tossing frozen pea-sized crumbles of aged blue cheese from Rogue Creamery with candied Bartlett pears. Today, Salt & Straw has expanded beyond Oregon to open additional locations in Seattle, Miami, and Los Angeles.
5 OF 16
Toasted Rice Ice Cream
WHERE: New York, New York
Korean-American ice cream queen, Hannah Bae, specializes in Asian-inspired flavors like black sesame, taro, matcha, makgeolli, and dalgona coffee. Her very first flavor and the best-seller at Noona's Ice Cream was toasted rice, capturing the caramelized and roasted flavors of noo-roong-ji. This traditional Korean crunchy rice snack was her childhood favorite. The ice cream is subtle enough that it pairs well with all manner of pies and cobblers, like a more cosmopolitan and complex substitute for vanilla.
6 OF 16
Raspberry Caraway Ice Cream
WHERE: Playa del Rey, California
Fresh farmer's market ingredients inspire many of the seasonal flavors at Playa Provisions' ice cream counter, Small Batch. Pastry chef Kristin Feuer just launched a new raspberry caraway ice cream reminiscent of eating raspberry jam on rye toast for breakfast. Feuer hot steeps caraway seeds in cream and then strains them out, leaving pure caraway flavor behind sans seeds. She then swirls the caraway ice cream base with a flourish of sweet and tart raspberry jam.
7 OF 16
Charred Corn Gelato
WHERE: Chicago, Illinois
Pastry chef Nicole Guini has always had an affinity for ice cream–all of her plated desserts at Michelin-starred Blackbird were accompanied by an artful quenelle of Carpigiani-spun ice cream. At brand new Adalina, Guini is bringing her ice cream-making talents back with a charred corn gelato, tossed in cornflake cereal and brown butter crumble, served beside a brown butter tart with blueberries and lemon verbena. "I wanted to bring that summertime backyard barbecue corn flavor," Guini muses. Guini grills corn on the cob and then cuts the corn kernels off and steeps them in milk and cream to capture that sweet and smokey flavor.
8 OF 16
Tahini Soft Serve
WHERE: Chicago, Illinois
James Beard award-winning chef, Zach Engel of Galit, has taken the reins at the West Loop patio destination of Saint Lou's Backyard this summer. For dessert, he's whipping up a nutty tahini soft serve topped with crunchy house-made pecan praline bits. Engel folds Soom ground tahini paste into a vanilla soft serve base for a toasty twist on a classic that may look simple but tastes sublime.
9 OF 16
Sour Ale Soft Serve
WHERE: Greeley, Colorado
At the Wiley Roots Brewing taproom in Greeley, Colorado, smoothie-style sour ales made with milk sugar are run through an ice cream machine to make a smooth boozy soft serve ice cream, with flavors changing weekly. Fresh fruit purées, beer, and ice cream make for a winning combo in blackberry and strawberry fruit lady ice cream. These adults-only treats clock in at 5% ABV.
10 OF 16
Bun & Cheese Ice Cream
WHERE: Fort Lauderdale, Florida
Family-owned Localicious Caribbean Ice Cream has been churning ice cream three gallons at a time since 1977, specializing in Caribbean flavors made with tropical, all-natural ingredients. Their bun and cheese flavor is studded with pieces of Jamaican bun and cheese pastry, like a hot cross bun with a Caribbean twist. Expect an ice cream that is simultaneously rich, sweet, and spicy.
11 OF 16
Mushroom Pecan Ice Cream
WHERE: Minneapolis, Minnesota
Candy cap mushrooms have a distinct maple taste with earthy umami flavor, making them a perfect savory twist on popular maple pecan. At Bebe Zito, candy caps are steeped like tea in local, grass-fed milk before buttery candied pecans are added to the mix. This flavor was a bit of a hard sell during a pandemic when taste testing wasn't an option, but now it's become an unlikely favorite. "Our favorite moment is watching after they've taken the first bite and you tell them there's absolutely no maple in the ice cream," says Gabriella Grant-Spangler, half of the husband-and-wife duo behind Bebe Zito. "The surprised look is so fun!" At the scoop shop, ask for extra pecans on top if you're looking for an added crunch.
PHOTO: Bill Sussky
12 OF 16
Peach Bourbon Habanero Ice Cream
WHERE: Covington, Louisiana
This sweet and spicy flavor was born from an eccentric customer's request when Hoodoo Ice Cream was just starting out at the Covington Farmers Market in Louisiana. They swirled in Robin's Rockin' Cajun Pepper Jelly from the booth next to them and the rest, as they say, is history. Owners Billy Sussky and George Schenck now operate a dairy parlor in downtown Covington. However, they're still making ice cream in small batches with milk from just 14 Jersey and Holstein cows on a family farm in Progress, Mississippi.