By Beth D'Addono | Eater New Orleans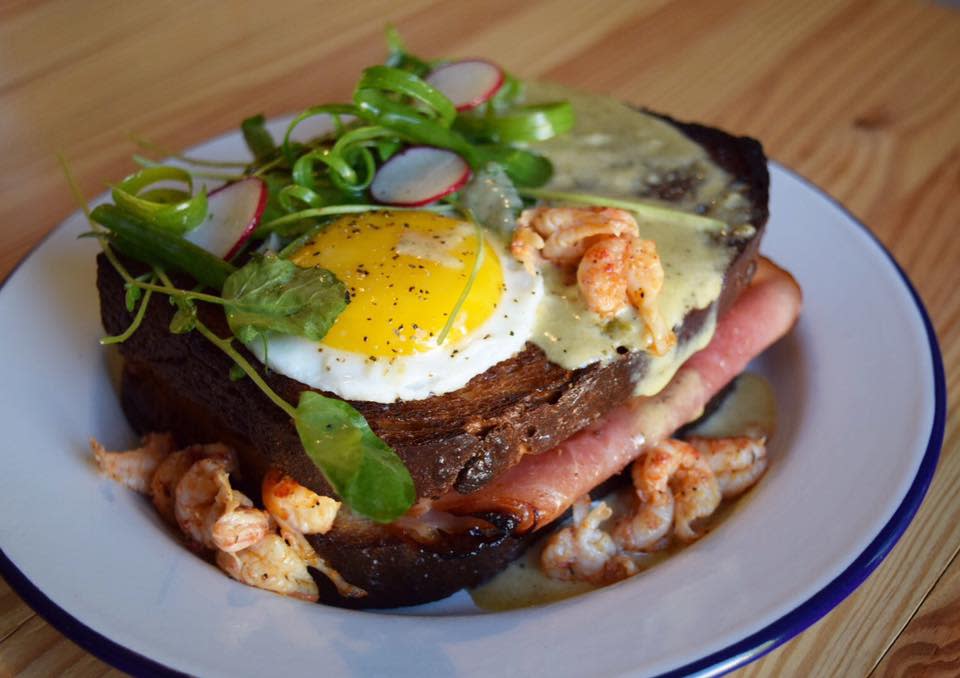 How far would you drive for a good meal? And not just a meal, but an experience, whether it be authentic Cajun cuisine dished along the bayou, a fine dining feast with river views or a funky pub set in an old bicycle shop on Main Street USA. Make a day of it, stop along the way, hatch a mini-road trip. Summer in the city can wear a body down — maybe a delicious change of scenery is just what the doctor ordered. Most of these spots are within two hour's drive of New Orleans, some as close as across the lake. They are all worth the trip.
Did we miss your favorite road-trip worthy restaurants? Leave a comment or send us a tip.
Note: Restaurants on this map are listed geographically.
1. Suire's Grocery & Restaurant
13923 LA-35
Kaplan, LA 70548
(337) 643-8911
Friday's lunch special at Suire's Grocery & Restaurant in rural Kaplan, Louisiana is always the same: an irresistible stew of local turtle meat simmered for hours in a dark reddish-brown gravy, shiny with the gleam of a well-polished family heirloom. The family-owned spot in Vermillion Parish is famous for plate lunch and staples, long a must stop for families heading west along the coast, the place to stock coolers with food for their hunting and fishing camps. The Suirre's are geniuses at rustic, Cajun cooking, smothering, simmering frying and baking hearty platters guaranteed to satisfy.
2. Laura's Two
1904 W University Ave
Lafayette, LA 70506
(337) 593-8006
Laura Williams Broussard's signature brown gravy has been simmered by three different generations, ladled over meat and threes since 1968. For years folks from all over Acadiana lined up to taste Laura's gravy. Now her granddaughter Madonna Broussard is doing her proud at Laura's II which she opened more than two decades ago on University. A magnet for students from the nearby college as well as regulars and workers from the neighborhood, Laura's II is known for oversized baked stuffed turkey wings, smothered okra, and some of the best rice and gravy in the universe.
3. Scratch Farm Kitchen
406 Garfield St
Lafayette, LA 70501
(337) 296-2364
Farm-to-table and Southern style meat and three plate lunches usually don't intersect. Which is exactly why Scratch Farm Kitchen in Lafayette deserves a visit. Owners Jamie Vickery and Kelsey Leger source from Louisiana and Mississippi farmers and offer vegan, vegetarian, and meat options. Their plate lunches cost a little more — $14 compared to the usual $10 and under — but everything on the plate is either made, cured, fermented, or raised by them or folks they know. Their meat and three is a protein which might be jerked chicken salad, pulled mojo pork, or a veggie patty and sides like pickled beets, hash potatoes, grits, or grilled broccoli. The plate lunches aren't just pretty, they're delicious.
4. Kajun Twist & Grill
616 Crescent Ave
Lockport, LA 70374
(985) 242-2300
Kajun Twist & Grill in Lockport, and the original Kajun Twist in Galliano up the bayou, dish ribsticking Cajun fare in mammoth portions. The restaurants are owned and run by Anthony Goldsmith, who learned to cook from his great-grandmother Alzina Toups, who famously ran her own small restaurant experience by reservation only in Galliano. Cajun Twist offers huge portions of fresh seafood, fried chicken, enormous burgers, frizzled onion rings, fish chips, gumbo and po' boys, all guaranteed to satisfy even the heartiest appetite.
5. Cher Amie's
15628 W Main St
Cut Off, LA 70345
(985) 325-3333
In Cut Off, Louisiana, Donna Harris oversees the kitchen at Cher Amie's, a 60-seat family-run eatery that serves Cajun specialties and a lot more. Harris created all the recipes on the menu and stretches beyond the usual boundaries with globally-accented dishes like bang bang shrimp, crawfish queso, and healthy options including blackened mahi with grilled veggies and seared tuna salad. The softshell crab pasta and softshell au gratin are real crowdpleasers, as is the shrimp lovers platter with bacon shrimp, coconut shrimp, stuffed shrimp, fried, and grilled shrimp served with rice and hushpuppies.
6. Mosca's
4137 US-90 West
Westwego, LA 70094
(504) 436-8950
There are a handful of excellent reasons to cross the (thankfully widened) Huey P. Long Bridge to the West Bank. At the top of the list is Mosca's, an esteemed family-run Creole Italian roadhouse that sits along a dark stretch of Highway 90 West. Opened for business in 1946, the restaurant's storied history includes ties to the late Carlos Marcello, a New Orleans crime boss who also happened to be the landlord and a regular — can't fault his taste in food. The unchanged menu includes garlic-infused specialties like barbecued shrimp, baked oysters, and of course the Chicken a la Grande, roasted with tons of fresh garlic, herbs, and white wine. Sounds simple right? You try making it at home. Mosca's is always better.
7. Tchefuncte's Restaurant
407 St Tammany St
Madisonville, LA 70447
(985) 323-4800
Chef Michael Gottlieb is kicking serious culinary ass at Tchefuncte's in Madisonville, the swank restaurant atop the Anchor, an inviting waterfront bar and grill steps from the river's edge. Gottlieb, whose resume includes a slew of AAA four diamond restaurants, landed in Madisonville to open the dual property in 2019. His sultry American menu ticks all the boxes, from locally foraged seasonal mushrooms to dry aged beef sold by the inch and Gulf tuna au poivre; to creative starters like local sweet potato ravioli with sage and brown butter. Think elegant date night. The restaurant is gorgeous — if you've been thinking about popping the question, this is a perfect spot.
Sweet potato ravioli with brown butter, pistachio, and sage  Tchefuncte's Restaurant/Facebook
8. Lola
517 N New Hampshire St
Covington, LA 70433
(985) 892-4992
All aboard for Lola, the New Louisiana restaurant in a train depot setting that is really worthy the trip. Chefs Keith and Nealy Frentz have been upping the culinary bar in Covington for more than a decade, creating game-changing fare at this stylish downtown eatery. At lunch, tuck into homespun baked goods and from-scratch platters (tip: get the chicken salad). For dinner, expect a white tablecloth setting with the likes of sweet tea roasted duck breast adorned with dirty popcorn rice, collards, and savory pot likker.
Charred watermelon salad with pickled shrimp, mint, ricotta salata, sweet chili vinaigrette, and cracklin' dust  Lola/Facebook
9. Oxlot 9
428 E Boston St
Covington, LA 70433
(985) 400-5663
Chef Jeffrey Hansell and wife Amy are the talent behind white tablecloth eatery Oxlot 9 in Covington's posh Southern Hotel. Hansell, a native of Waveland, Mississippi, dishes creative coastal-inspired Southern fare, supported by an impressive cocktail program. The restaurant is pricey but worth it, thanks to polished dishes such as the softshell crawfish Caprese with grilled green tomatoes and crab boil mozzarella, and the pan-fried Louisiana rabbit with house tasso. Sunday brunch is an affordable way to enjoy this special spot.
Duck Duo of smoked seared breast, confit leg, collard greens, sweet potato soufflé, and duck demi  Oxlot 9/FacebookALSO FEATURED IN:
10. Del Porto Ristorante
501 E Boston St
Covington, LA 70433
(985) 875-1006
Take one bite of the tagliatelle with locally foraged mushrooms and truffled mushroom jus, and it's crystal clear why Del Porto chef/owners David and Torre Solazzo are three-time James Beard semifinalists for Best Chef in the South. Sophisticated, flavorful, and gorgeously composed contemporary Italian plates will please to no end, while the yellowfin crudo and seafood risotto are swoon-worthy. They just opened the Greyhound gastro pub, a promising follow-up.
Braised beef short ribs with cheesy herbed polenta, braised local greens, and short rib jus  Del Porto Ristorante/Facebook
11. Hambone
544 Girod St
Mandeville, LA 70448
(985) 778-0531
Chef Luke Hidalgo, a former sous at Commander's Palace, runs Hambone in Old Mandeville with his wife Marci, an inviting 1940s cottage just steps from the lakefront. Hidalgo's spin on Gulf South comfort foods includes an irresistible dark gumbo swimming with gulf shrimp, ham hocks, and collards, topped with pickled okra potato salad. Tuesday to Friday, $12 blue plate specials are the bomb — especially if it's Wednesday when country fried steak and gravy is on the plate.
Country fried steak with garlic confit grits, country gravy, sunny egg, herbs  Hambone/Facebook
12. Palmettos On The Bayou
1901 Bayou Ln
Slidell, LA 70458
(985) 643-0050
If it's a bayou view you crave, it doesn't get prettier than Palmettos on the tranquil Bayou Bonfouca at the historic site of Roberts Landing. This waterfront restaurant has been dishing southern charm and hospitality along with a Louisiana-inspired menu since 2002. Enjoy local seafood on the wrap-around deck, where gator sightings are not unusual.
Crawfish beignets  Palmettos on the Bayou/Facebook
13. KY's Olde Towne Bicycle Shop
2267 Carey St
Slidell, LA 70458
(985) 641-1911
If you've never explored the sweet old town section of Slidell, it's a real throwback, with locally-owned shops and friendly eateries like KY's Bicycle Shop. Originally a millinery store in the early 1900s, the historic building had a run as a family-owned grocery, then took off as a bike and lawnmower shop in the late 1960s. The welcoming bar and restaurant, with its ceiling scape of two-wheeled transportation, serves a freewheeling American comfort menu of breakfast, fried seafood, burgers, and plate specials.
14. White Pillars Restaurant and Lounge
1696 Beach Blvd
Biloxi, MS 39531
(228) 207-0885
White Pillars is a showstopping space, an old mansion restored to its original 1905 splendor after suffering significant Hurricane Katrina damage. The setting is a beautiful backdrop for James Beard Award-nominated chef Austin Sumrall's unfussy mix of Cajun, Creole, and new Southern cuisine. Whether he's serving briny oysters that were in the water just hours ago, having fun with shrimp corn dogs, or reinvigorating eggplant Josephine, an original menu item that layers eggplant with marinara, crabmeat, mozzarella and hollandaise, Sumrall's eye for detail and sense of flavor is spot on.
15. Vestige
715 Washington Ave
Ocean Springs, MS 39564
(228) 818-9699
James Beard award nominee Alex Perry works his magic at Vestige, an intimate bistro in downtown Ocean Springs. The menu combines contemporary American cuisine with Japanese influences, delivering a farm and Gulf to table experience, with just caught seafood, wagyu steaks, and museum-quality composed plates of greens and vegetables. The chef's four course tasting menu is $70 per person, an experience that would easily be twice the price in the big city. Make your reservation now. And go to the Walter Anderson Museum while you're there.