Mandeville is home to many amazing bars. Whether you're looking for craft beers, fine wines, delicious food, or bar games, you won't be short on choice.
Here's our pick of the seven best bars in Mandeville.
If you're looking for a sports bar that also has fantastic live bands, delicious food, $6 pitchers of beer available all day long, and a great selection of bar games, then look no further than Interference Sports Bar.
You can't miss it. Located on Florida Street between the Mandeville Bake Shop and Saia's Meat Market, just look for the giant cow at the front!
While many people visit the bar for the sports shown on the large 10-foot HD TV screen, lots of visitors love playing the traditional bar games like pool, darts, shuffleboard, and beer pong.
Indeed, if you're looking for inspiration for bar games to play at your own bar, you can get some great ideas by visiting Interference.
Alternatively, you can just relax with a drink and some tasty bar food like grilled chicken strips, fried cheese ravioli, or a buffalo burger.
Voted the best wine bar on the Northshore, St. Ann Wine Bar not only has forty varieties of sensational wine to sample. It also has $5 cocktails and a fabulous whiskey bar.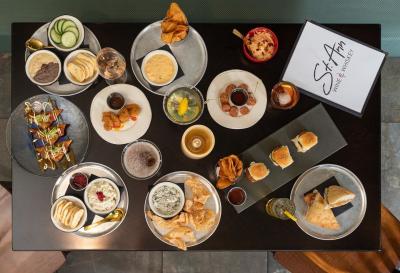 But there's plenty to enjoy at this bar beside the drink. There's a wonderful outdoor patio, a VIP seating area, and live music every night.
Put it all together, and you have one of the trendiest bars in Mandeville.
When visiting St. Ann Wine Bar, you'll also want to try out its small-plates menu, which includes tasty treats like truffle fries, Hawaiian pulled pork, and Angus meatballs.
But, as you would expect, the wine is the star at this bar. You can try wines like Pra Vinera Reserve Pinot Noir, Riebeek Cellars Sauvignon Blanc, and Pullus Pinot Grigio Pink. You can even book a private wine tasting session.
If you prefer video games to classic bar games, head to The Hideaway Den and Arcade, which is located at the intersection of the Westbound Approach and Causeway Boulevard. Just look out for the neon Pac-Man ghost adorning the front of the bar.
In addition to some great games and a good selection of beverages, including local brews and specialty cocktails like Captain's Bounty and Passionfruit Punch, The Hideaway offers a fantastic menu, which includes delights like crispy panko chicken tenders, shrimp poboy with fries, and fried cheese curds.
There's arguably no better place in Mandeville that combines video games with exquisite food and drink.
Located on the former railway corridor of the Tammany Trace, the Old Rail Brewing Company honors Mandeville's history and the famous timber trains of years gone by.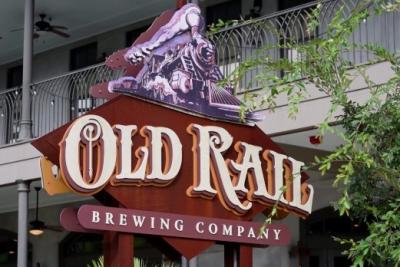 Whether you're looking for a high-quality handcrafted beer that's been brewed on the premises or a delicious southern-style dish, including gator mac, the Old Rail burger, and chicken and andouille gumbo, the Old Rail Brewing Company has you covered.
You'll find a variety of seasonal beers at different times of the year, such as Tigerblood Seltzer, 639 IPA, and Southbound Odyssey; all of which are on tap.
But whatever food and beverages you choose, you will undoubtedly love relaxing with friends or soaking up the rich history of the local region at the Old Rail Brewing Company.
Located on Jefferson Street, Grapeful Ape started out in 2018 as a retail wine shop and wine club, offering mainly organic and bio-dynamic wines from small-production wineries.
At the end of 2019, Grapeful Ape opened its specialty cocktail bar, where you can try some beautiful wines, beers, and cocktails while enjoying some delicious assorted cheese plates in the evenings.
If you're a wine lover, you'll enjoy sampling the drinks on offer any time you visit the establishment, but if you're serious about trying the best wines from around the world, you'll want to join Grapeful Ape for a wine tasting session, which takes place every third Wednesday of the month.
If craft beer is your thing, you'll certainly want to visit The Barley Oak on Lakeshore Drive.
You'll come across a wide selection of local craft beers, seasonal specials, and hard-to-find specialty beers.
Furthermore, the staff at The Barley Oak are very knowledgeable about the beers on tap and in the coolers.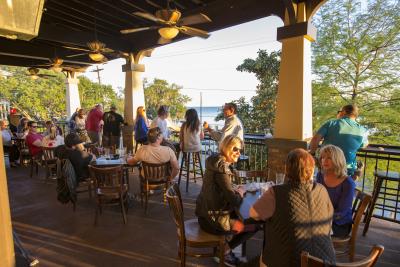 As for the venue itself, The Barley Oak oozes charm. It's inspired by English pubs and German biergartens.
In the warm months, you can sit in peace and comfort on the bar's second-story balcony, and in the winter months, you can recline on leather settees with friends next to a roaring open fire, so the place is ideal no matter what time of year you visit.
The food is every bit as good as the beer. But if you only choose one thing off the menu, make sure it's the German Sausage Platter, which combines Bratwurst, Knockwurst, and German Beef Frank sausages, all served with Dijon mustard and fresh sauerkraut.
If you're local to Mandeville, you probably know all about Pat's Rest Awhile.
The two acres of land on the Mandeville lakefront was originally the home of a hotel in the 1880s before being donated to the International Order of the King's Daughters and Sons to be used as a retreat.
Unfortunately, Hurricane Katrina left the site in decay in 2005. For more than a decade, it was left as a ghostly relic by the lake. But in 2020, after painstaking restoration and construction, Pat's Rest Awhile opened on the site and it has rapidly become one of the finest bars and eateries in Mandeville.
You can sample old-fashioned cocktails at the Sophie Cottage, daiquiris at the Oyster Bar and Deck, or a variety of drinks and dishes at the full-service bar in the Fapart Main Dining area.
With fresh seafood served daily in a very casual environment overlooking the beautiful Lake Pontchartrain, you're sure to want to rest awhile at Pat's Rest Awhile.